Solstice at Stonehenge
"Let's shoot a Winter Solstice at Stonehenge video." Said photographer buddy Simon who you may have met on a workshop in Asia. I loved the idea but it's rained almost constantly since November in the UK and there's no sign it'll stop. Biblical flood or what!!!
Overcoming challenges is what photographers do so we have to focus (pun intended) on the ups, not the downs. If it's raining then we'll get pics of people celebrating the longer days to come and having a great time. If it's dry we get all that good stuff and a sunrise at this astonishing pre-historic site too. On top of that, summer and winter solstice are the only times people are allowed to enter the stones and that's got to be an experience worth having.
So the alarm went off at 4am Sunday morning, it's raining and cold. Good thing the car has a heater then. Couple of miles down the road and the rain clears and by the time I arrive the clouds have broken up too. See, how easy would it have been to see that early rain and gone back to bed! Good job I'd committed to meet Simon or that comfy tempting bed just might have seduced me…
Despite sunrise being at least three hours away and access to the site didn't open for a while yet, the number of friendly people calling greetings and hiking out across the fields was surprising. I'd never been to the Solstice (never mind photographed it) and was soon to learn what an incredibly popular event it is. The inner circle was literally packed solid so people had arrived early to ensure they'd get in.
Photographing any event presents challenges. There are no lights at Stonehenge so we had to contend with extremely low light. Normally a tripod is the answer and many photographers had them, but I didn't just want to shoot sunrise. I wanted to shoot the people, their excitement, joy and how they interacted with the event. I tripod would get in the way, be one more thing to carry because there's nowhere to leave it and the car's 30 mins walk away.
Then there are the crowds. 1000s of people come to the Solstice from all over the world so inside the stones there's no room to move. My only regret is not taking a 10mm wide angle lens. I (as always) just took the 18-55mm. I love this lens more than any other because it's so versatile and I got some great shots with it. But there were one or two shots and 'moods' I couldn't capture without the wide lens due to lack of space.
Don't be obvious when photographing an event, or anything else for that matter. Look at things from different angles. When everyone else is watching the horizon as the sun peeps over it, turn and face the crowds and photograph their reactions. Especially at Solstice because you have Druids and dancers and people wearing all manner of outfits. They are there because this event is important to them. It's a time for thanks-giving, self reflection and a celebration of the coming Spring. That means they'll be happy, emotional and interacting and that makes interesting reportage photography.
Capturing a fleeting moment of human connection takes a hell of a lot of concentration and work. You have to think one step ahead, anticipate and keep adjusting the camera so it's ready to go. The light is changing as the sun rises so monitor exposure. Shooting into the light often requires ignoring what the light meter thinks is the 'right' exposure. It will scream you're over exposing because it thinks the sun is grey and will underexpose when shooting into it.
My favourite from this shoot...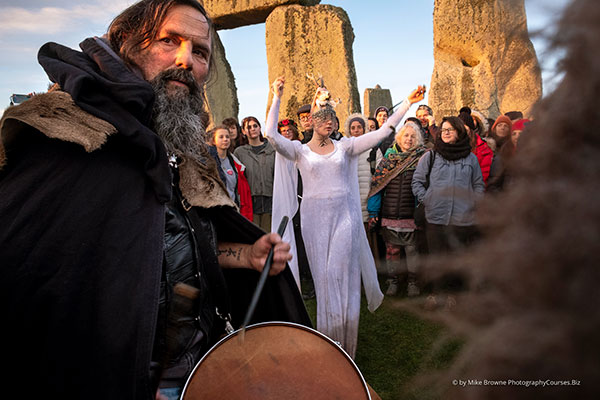 Settings used: 1/125th sec - f5.6 - iso1250 - 18mm
Why is this my favourite? There's a sense of place, of action, feeling intimacy with the subjects and what's important to them and for me - it works. The light catching the drummers face, the crowd, the girl totally stands out so there's no confusion what it's about.
Compare it to this one..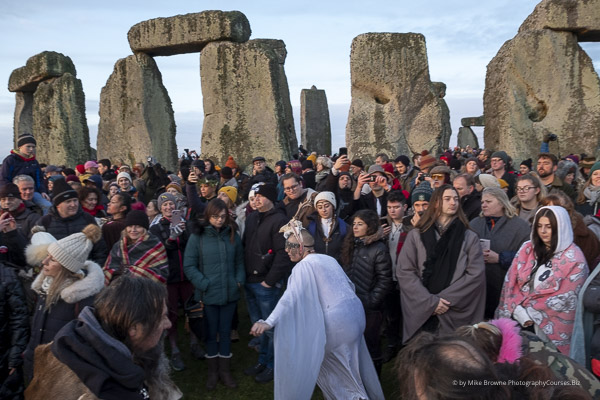 Taken with the same camera, same lens, same settings - but from the wrong place at the wrong time in the wrong light - in my opinion.
Reportage often looks like a random moment anyone could have captured, but a decisive moment is hard to capture. This one's not in the video because it took a very long time waiting for the girl to be in the right place when the drummer glanced briefly back to the rising sun and the light caught his face. It has a feeling of intimacy with the camera because it's shot in close on the 18mm not cropped in from a distance.
Actually I very rarely crop because I choose focal lengths for creative reasons such as field of view, compression effect, mood and feeling. Focal length lets you control if the viewer is observing from a distance or a participant in the action.
How in my opinion could it be better? The shot I'd have liked would be the same but with the girl in a crouched, more animated stance. Had I stayed with it longer maybe it would have happened, but I didn't and I love this one.
Many photographers are nervous about photographing strangers. Be authentic and just do it. Interact with those strangers around you and they won't be strangers anymore. Don't be sneaky or furtive because we all sense each other's emotions. If you're scared it'll infect those around you.
On a practical level you must observe what people are doing, where they're going and get a step ahead of them so you're in the right place at the decisive moment. You'll miss many such moments and that's what makes reportage photography hard. But it's also fun and rewarding when you get a 'good one'. Missed shots is the price we pay for them. Move on and look for the next one.
If you don't know what your camera settings do, which light is good or bad, how to compose or even know what makes a good picture. I guarantee my online photography courses will help you for a lot less than the cost of another camera gadget or upgrade. You just watched me take some awesome images with a small hand held camera and standard 18-55mm lens and if I can do it so can you.
So stop wasting money and upgrade your photographer - not your gear.
Best wishes and be well…

View all Videos