London Photography Seminar and Photowalk
Cameras Don't Take Pictures
21st September 2024 - £125 per person
Tired of amassing a collection of "OK" images that lack that spark of pride? Struggling to discover inspiration and those remarkable photos? Feeling lost about the reasons behind it all?
Introducing CDTP: a dynamic morning seminar followed by an afternoon photo walk to transform theory into action. Your camera and favourite lens are all you need to join in.
No matter what camera you wield – even a phone – this event is tailored for you. Because remember, cameras don't capture pictures, you do.
What is CDTP?
CDTP is an immersion into learning by doing, a journey where experience becomes the teacher. Drawing from my professional journey as a photographer since 1993, I'll share insights I've gathered along the way. As participants engage, asking questions and sharing their own experiences, fresh perspectives naturally unfold. This leads to new found confidence to explore, innovate, and bridge the gap between the technical and creative dimensions of photography.
Image Mastery and Inspiration

Do You take 1000s of "OK" images - but are not truly proud of them? Is it hard to get Inspired and find photos? Are You confused as to Why? You are not alone - we've all been there...

The Real Difference Between 'Good' & 'Bad'


Join me and find out what makes a 'Good' photo, how to do it, why some photos are 'Bad' - AND WHAT TO DO SO IT NEVER HAPPENS TO YOU.

How To Think Like A Photographer
Did Leonardo DaVinci's brushes paint the Mona Lisa for him? No - so why would a camera take photos for you?
You need a simple, repeatable Thought Process and action plan.
For most, the game-changer is realising that the essence of photography extends beyond the camera's confines. It's an eye-opener that just a handful of controls hold the key. We'll blend imaginative thinking with strategic techniques, making it surprisingly simple to capture images worthy of adorning your walls. Imagine the pride that'll swell within you, knowing those images are your creation. How proud will you feel?
The most important thing in photography - is YOU.
If the camera and technology were the real game-changers, how did the Old Time Masters craft awe-inspiring images with the simplest of cameras? If cameras held all the power, your modern-day digital wonder should easily outshine them – so why isn't it?
"It is an illusion that photos are made with the camera. They are made with the eye, heart and head." [Henri Cartier-Bresson]
"A better camera won't do a thing for you." [Arnold Newman]
"You don't take a photograph, you make it." [Ansel Adams]
Photographers just like you said....

"The best thing was how you spoke your thought process aloud when working a shot and reverse engineered it for us. A really inspiring talk and I Loved the audience participation."
Tracey Howe

"Very enjoyable and completely different to the usual lectures. You made it thought provoking and included the audience with your questions."
David Huntingford

"Very inspiring! I am more relaxed about taking pictures now, and take more time to look for the better angle or a new approach."
Marilyn Timney
Cameras Don't Take Pictures IS about...
Putting YOU IN CONTROL of your photography
The Crucial Thought Process behind all eye catching images
How to find the right settings for any shot
Inspiration, motivation & new ways of thinking
Fulfilling Your potential as a photographer
Cameras Don't Take Pictures is NOT about...
Camera controls / techniques available on 1000s of free videos
Memorising settings. They're USELESS unless you're taking the identical composition at the same moment
Which gadgets, kit and tech are 'best'
Being lectured to
Location
This seminar is 10 minutes walk from Waterloo Train Station.
The afternoon photo walk begins at the Tate Modern on South Bankside, along the Thames to Tower Bridge, returning along the North Embankment to cross back at Westminster Bridge, finishing at the London Eye. Anyone who wants to get a drink at one of the many bars nearby and hangout for an hour or so is most welcome.
£125 per person
We'll email you the venue address and receipt after checkout
(Tickets are non-refundable except in the unlikely event that CDTP is cancelled by the organisers)
Images from CDTP - by students and me
Your tutor at a glance
I'm flattered to have been called the UK's friendliest Photography Expert (Thanks 500px!).

I'm proud to have made hundreds of videos and spent thousands of hours teaching people like you to see more beauty in the world every day (and to capture that beauty), by thinking like a photographer.
My YouTube channel has served more than 26 Million views and has more than 260,000 subscribers.
I've appeared on TV shows and been asked to speak at some of the best photography events on earth, such as:
Xposure International Photography Festival, Sharjah, UAE
The Photography Show, Birmingham, UK
I've enjoyed a wonderful career as a photographer, presenter and teacher. I even trained as a teacher so that I could reach my full potential and enable others to reach theirs.
As a photographer, I'm proud to have won multiple awards:
Petapixel TopTen Youtube Trainers list
x3 Xposure International Photography Festival Awards
Fuji Commercial - X2 Fuji Wedding
Kodak Gold
14 Master Photographers Association Awards
And I've been lucky to have had exhibitions at prestigious venues such as:
The Master Photographers Association
Royal Photographic Society
Romanian Embassy (London)
Xposure Photography Festival - others...
When not teaching photography I also have a role as a brand ambassador for ClickASnap.com and I have written for publications such as:
Ephotozine
DSLR User magazine
Professional Photographer
Photography Monthly - others...
Trumping all of this, my proudest achievement to date is the huge number of wonderful 5* reviews on Trustpilot and Google - written by people like you after completing my courses. This is what inspires me to continue creating courses to help more people fall in love with photography.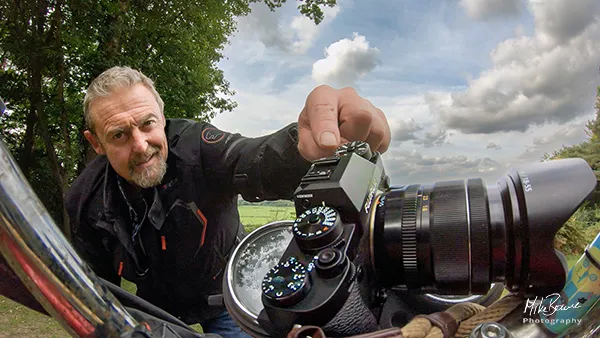 Xposure International Photography Festival - Sharjah, UAE