How to Capture a Perfect Picture
With any camera
On-demand webinar
Approx 60 minutes
Watch and Re-watch as many times as you like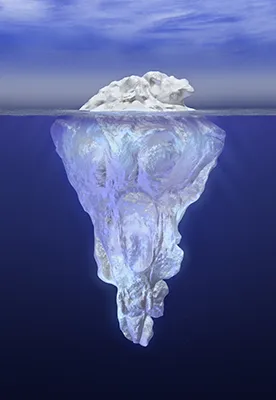 Capturing the perfect picture is a 'photographer' function, not a camera function, so you can do it with any camera.
Engaging, vibrant images are the result of having a clear idea of what you want your image to look like and say to the viewer. Landscapers need to plan locations, make decisions about when to shoot to get the right light.
Photographers have to make choices about composition, what to include or leave out, camera angle, focal length, depth of field, how bright or dark you want it, the right moment to shoot it. These choices happen outside of the camera.
We only see the tip of the iceberg - most of the work happens below the surface
The great old time master photographers had only three controls - and their images are still as awe inspiring as ever because they knew it's their choices that matter, not the camera.
When you've decided what you want, you set the camera appropriately to capture it.
In this webinar you'll discover how to shoot a perfect picture of a variety of subjects and locations and explore the work that happens out of sight, below the surface. Because when we see the amazing final image, we're only seeing the tip of the iceberg.

I have begun to dot the I's and cross the T's
Mike is an excellent teacher explaining in a way that is easy to follow. Very soon I will be purchasing another course.
---

Informative and inspiring
Mike's style is very down to earth and he explains things in such an uncomplicated way. His passion is to help you realise that the picture starts in your head and the camera is just there to capture the moment!
How it works
Once you've purchased a ticket you will receive a thank you email with an auto-login link that will take you directly to the webinar page in our Learning Centre, the email will also contain your login details.
Pre-recorded webinar approx 60 minutes
Watch and Re-watch as many times as you like, in your own time
I look forward to seeing you there...

Enjoy a risk free 100% refund guarantee

Valid for 60 days from purchase