Dates TBC November 2024
£995 per person - 8 places available
19th November: Arrivals / Meet & Greet
20th - 24th November: Workshop
25th November: Departures
Lanzarote is a small, Spanish, volcanic island off the coast of North West Africa. Its dramatic black landscapes punctuated by pristine white villages, rugged coastline, majestic volcanoes, and flourishing wine region make it an absolute haven for photographers. Take a glimpse at the images and video below, and you'll quickly understand the allure.
The picturesque town of Teguise (not to be confused with the tourist hub of Costa Teguise) was once capitol of the island and today is home to what is in my opinion, the best bakery in the world - JonnieBakes. Previous students often ask if we can shoot Teguise again!
If you love a unique landscape, you'll love photographing Lanzarote.
Who's it for?
All levels of photographer from beginner to experienced wanting to have a photographic adventure set against one of the world's most captivating backdrops. The program includes on-location guidance and insightful instruction, guaranteeing substantial learning and a great time amongst like minded people.
Where we're based - and what we do
We're based out of the old port area of Puerto Del Carmen which is only fifteen minutes by taxi from the airport.
Starting early for sunrise, we'll journey across the island, chasing the perfect light and weather conditions. Midday, when the light gets harsh, we'll regroup for image reviews and feedback sessions. We'll resume shooting mid afternoon. Sunset shoots in a variety of locations will wrap up each day before heading back to Puerto Del Carmen in the evenings.
Example itinerary
Itinerary is flexible so we can make the most of changing light and weather.
Day 1:
7.00am, Casa Juanita - The Blue House (which is mostly red) is usually our first sunrise location. Breakfast at a cafe across the street, before driving up to the highest point on the island to shoot panoramics of the nearby island of La Graciosa. Continuing along the cliffs towards Haria for Lunch, feedback session and photo walk around Haria before heading up into the clifftops for sunset.
Day 2:
Sunrise in La Geria where vines are grown in shallow pits in the black ash covered soil to protect them from the hot wind. A photo walk up a pretty little track with various abandoned houses and more vine plantations. Lunch followed and feedback session in Tinajo. Afternoon shooting nearby farms, fields and a spectacularly quirky small village on the coast. Sunset shoot along the rocks and Atlantic breakers.
Day 3:
Volcano day starting with a short hike up a gently sloping volcano which has wonderful views across the lava fields where Aloes catch the light beautifully for some foreground interest. After breakfast we'll take a photo walk around the red volcano. Lunch in Teguise (at the best bakery in the world) followed by photo walk around this historic town. Sunset shoot overlooking volcanoes to the west.
Day 4:
Sunrise at the shipwreck near Arricife followed by villages in eastern end of the wine region. After lunch and feedback we can explore the rugged black lava fields and shattered cone of Caldera de Los Cuervos. Sunset shoot nearby amongst the volcanoes.
Day 5:
Sunrise at a high point overlooking the East coast and ocean and then onto an abandoned hotel with rock pools and views along the coast. Breakfast in Playa Blanca or Uga. Heading up into the higher areas of the wine region we'll shoot views overlooking the lower vineyards and Timanfaya national park. Lunch and feedback in La Asomada. Afternoon visit to the ocean caves at Los Hervideros. Sunset shoot above Salinas de Janubio.
See gallery below for more images
Getting to Lanzarote
Arrecife airport (ACE) is served by many major airlines making daily flights from all over Europe.
Accommodation
Accommodation is not included because everyone has their own needs so it's better and more cost effective for you to choose whatever works best for you. Some bring their family for a holiday whist they do photography with me, so they might want an appartment. You might prefer a nice hotel, or somewhere simple, clean and quiet to shower and sleep.
Here's a list of Places to Stay within walking distance of our daily meeting place.
Price includes
Photography training and coaching
Transport during the workshop
Price does NOT include
Travel to the workshop
Accommodation, food and beverages
£995 per person
Dates TBC November 2024
If you'd like to register your interest
please use the contact us page
Your tutor at a glance
I'm flattered to have been called the UK's friendliest Photography Expert (Thanks 500px!).

I'm proud to have made hundreds of videos and spent thousands of hours teaching people like you to see more beauty in the world every day (and to capture that beauty), by thinking like a photographer.
My YouTube channel has served more than 26 Million views and has more than 260,000 subscribers.
I've appeared on TV shows and been asked to speak at some of the best photography events on earth, such as:
Xposure International Photography Festival, Sharjah, UAE
The Photography Show, Birmingham, UK
I've enjoyed a wonderful career as a photographer, presenter and teacher. I even trained as a teacher so that I could reach my full potential and enable others to reach theirs.
As a photographer, I'm proud to have won multiple awards:
Petapixel TopTen Youtube Trainers list
x3 Xposure International Photography Festival Awards
Fuji Commercial - X2 Fuji Wedding
Kodak Gold
14 Master Photographers Association Awards
And I've been lucky to have had exhibitions at prestigious venues such as:
The Master Photographers Association
Royal Photographic Society
Romanian Embassy (London)
Xposure Photography Festival - others...
When not teaching photography I also have a role as a brand ambassador for ClickASnap.com and I have written for publications such as:
Ephotozine
DSLR User magazine
Professional Photographer
Photography Monthly - others...
Trumping all of this, my proudest achievement to date is the huge number of wonderful 5* reviews on Trustpilot and Google - written by people like you after completing my courses. This is what inspires me to continue creating courses to help more people fall in love with photography.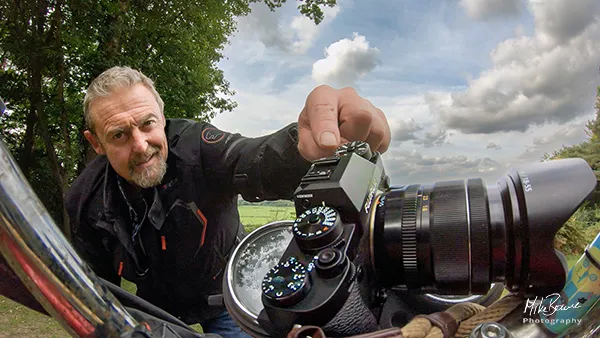 Xposure International Photography Festival - Sharjah, UAE