Interview with Clickasnap MD Tom Oswald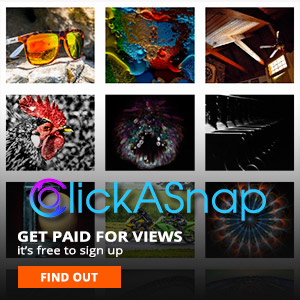 ClickASnap pay per view photo sharing site is a world 1st. Unlike any other photo sharing site, ClickASnap pays you when someone lingers to look at one of your images. On the face of it this may seem too good to be true and we've had hundreds of questions flooding in.
Some are pretty tough questions, so I interviewed ClickASnap Boss Tom Oswald and put them to him directly so you can get your questions answered by the man himself.
One of the most frequent questions is the payout value of a paid for image view and in this video Tom explains how it works and how payments to photographers will grow as more users come on board thus attracting higher spending advertisers.
But there's a lot more to ClickASnap than just pay-per-view. You'll soon be able to sell your work as framed prints, downloads or license them for commercial use.
Tom's partnered with One Vision Imaging who'll print your images, frame and deliver your finished work to your client wherever they are in the world. Photographers set their own prices and ClickASnap takes just 10% commission.
Copyright theft of images is rife on the internet and is a big worry for all photographers. No one likes ruining their work by adding huge watermarks which detract from the work. Existing sites such as Flickr have download image disable protection, but there's nothing to stop someone saving a screen grab. With ClickASnap's revolutionary image copyright protection system this could soon be a thing of the past.
Any image uploaded to the site is contained in it's database and using their own bespoke technology, ClickASnap scan the web looking for duplicates. When it finds your image on a site not white listed by you (such as your own website or Facebook page) it tells you where it's found the image.
You can then take whatever action you wish against the copyright thief personally, or take advantage of a deal ClickASnap have done with a firm of international copyright solicitors who will take action on your behalf. For professional photographers and artists this could be an invaluable resource.
I've been working with Tom Oswald for about a year now and there's no doubt in my mind the mans a genius. He's also funny, witty, loves cameras and high tech photography such as high speed and astro-photography. But above that, he has a very strong sense of fair play, which is one of the main reasons he started ClickASnap in the first place.
The site is still less than a year old. None the less, it's attracting over 2 Million views a month already and has the lowest Bounce Rate I've ever seen. A 'Bounce' is when someone arrives on a site, realises it's not what they wanted and leaves almost immediately. A very good bounce rate might be around 30%, but ClickASnap has a staggeringly low rate which is less than 1%!
This can only mean one thing. People arrive on the site - and like what they see.
As it grows, I believe ClickASnap will become a 'one stop shop' for photographers and artists alike. Creators are rewarded for good work, can sell their work and it's protected from theft. What's not to like?
If you have further questions please post them to...
View all Videos