Morocco Travel Photography Workshop
10 Days / 9 Nights: Coming soon for 2024
Price per person tbc - 10 places remaining
With it's lively, colourful cities, rugged mountains, peoples and Kasbahs all the way to the Sahara, Morocco is a popular destination for travellers and tourists alike. For photographer's it is a dream come true. It's safe, easy, affordable and being on the doorstep of Europe, easy to get to.
Travel photography is about telling a story
Travel photography is the art of capturing the essence of a place through images that tell its unique story. It's not just about beautiful landscapes or iconic landmarks; it's about capturing the soul of a destination—the people, the culture, the everyday moments. A travel photographer is like a visual storyteller, translating the emotions and experiences of a journey into a series of compelling photographs.
It's about finding the perfect balance between technical skills and creative vision, seizing the fleeting moments that encapsulate the heart of a place. Through a travel photographer's lens, even the ordinary can become extraordinary, allowing viewers to vicariously experience your journey for themselves.
Morocco is a multicultural country, with several types of heritage. People are friendly, especially in the countryside and with its rich history, photo opportunities abound.
Average November temperatures are a comfortable 18 to 23 degrees and 60% humidity. Blue skies with a few scattered clouds make it perfect for photography.
With ongoing coaching, instruction and feedback sessions, this travel photography workshop is one not to be missed...
Who's it for?
All levels of photographer from beginner to experienced wanting to have a photographic adventure in one of the world's most interesting and historic locations. Tuition and guidance will be given on location to ensure you get great images and take your skills to a new level.
Above all this is an opportunity to dedicate time to photography because like any skill, you have to do it to improve at it. What better way than with like minded people in stunning locations.
Where are we going?
We begin in Marrakech and travel down to Merzouga at the start of the Sahara Desert visiting many ancient Kasbahs, villages, sunrises and sunsets along the way. Our journey takes us through the Atlas Mountains where we visit a Berber family for lunch - and photography! The spectacular Todra Gorge where we'll visit and photograph life with a nomadic family living in a cave high up in the cliffs.
Merzouga sees us shooting sunset in the sand dunes, enjoying wonderful North African cuisine and sleeping in comfy beds in luxurious en-suite tents right on the edge of the Sahara desert itself. And so much more besides. I mean really, take a look at the itinerary and gallery of images below...
How do I get there?
Marrakech Menara Airport (RAK) is served by many major international airlines. You will be met at the airport and transfer to our hotel is included.
Itinerary
The itinerary may change slightly according to weather, light and situation. Nomadic families can't always be found in the same place for example, and they don't have email either...
Day 1 (4th November):
Arrivals, meet & greet followed by a sunset shoot in Jemaa el-Fnaa, Marrakech
Day 2:
AM classroom session / culture briefing
Lunch with Berber family Ourika Valley
Ait Ben Haddou (Kasbahs)
Day 3: Ait Ben Haddou
Sunrise on way to Tilwouet Kasbah
Tilwouet Kasbah
Return to hotel 2pm for image processing / feedback
Local exploration
Sunset
Return to hotel
Day 4: Ait Ben Haddou to Todra
Sunrise
Breakfast
Depart hotel
Photo opportunities on drive to Todra
Sunset
Overnight in Dades Valley
Day 5: Dades Valley near Todra gorge walking and shooting in valley
Sunrise down the valley
Breakfast
Exploring Boumandades village
Lunch
PM feedback
Day 5 (Cont)
Afternoon landscapes and sunset
Overnight Boumandades
Day 6: Dades Valley
Sunrise
Breakfast
Nomads Cave
Lunch on road
Drive to Merzouga
Sahara sunset shoot
Overnight in Merzouga desert camp
Day 7: Merzouga
Sunrise in Sahara Desert
Breakfast
Fossils / landscapes & "The Pie Maker"
PM feedback
Desert exploration
Day 8: Merzouga
Exploring the surrounding area
Feedback session
Day 9: Return to Marrakech
Photo opportunities along the road with scenery, farmers working their fields and the life of Morocco
Day 10 (13th November)
Departures....
What will I learn?
You'll learn how to be more present to what's happening around you and see more opportunities. It's not always possible to get perfect light and you'll learn how to make the best from what is available, recognising moments of light and blending them into a composition.
What level do I need to be?
All levels are welcome and I promise your time will not be wasted. If you need help with camera settings, composition etc, I'm there to help at all times.
What camera do I need?
DSLR, mirrorless or bridge camera
A focal range from 10 - 200mm (crop) 24 - 210 (Full Frame)
Spare batteries and charger
Laptop for viewing images in feedback sessions
Lens cloth
You don't need to bring a tripod unless you prefer working with one.
Clothing
Temperatures: Approximately 25°C / 77F highs with night time lows of around 10°C / 50F
Rainfall: A rainy day in Marrakech and the Atlas mountains is a possibility. As we move south towards Merzouga in the desert rainfall becomes increasingly unlikely.
Humidity is a comfortable 35%
Want to know more about my next Morocco Workshop?

Share your details below and I'll let you know when the next one's live
Your tutor at a glance
I'm flattered to have been called the UK's friendliest Photography Expert (Thanks 500px!).

I'm proud to have made hundreds of videos and spent thousands of hours teaching people like you to see more beauty in the world every day (and to capture that beauty), by thinking like a photographer.
My YouTube channel has served more than 26 Million views and has more than 260,000 subscribers.
I've appeared on TV shows and been asked to speak at some of the best photography events on earth, such as:
Xposure International Photography Festival, Sharjah, UAE
The Photography Show, Birmingham, UK
I've enjoyed a wonderful career as a photographer, presenter and teacher. I even trained as a teacher so that I could reach my full potential and enable others to reach theirs.
As a photographer, I'm proud to have won multiple awards:
Petapixel TopTen Youtube Trainers list
x3 Xposure International Photography Festival Awards
Fuji Commercial - X2 Fuji Wedding
Kodak Gold
14 Master Photographers Association Awards
And I've been lucky to have had exhibitions at prestigious venues such as:
The Master Photographers Association
Royal Photographic Society
Romanian Embassy (London)
Xposure Photography Festival - others...
When not teaching photography I also have a role as a brand ambassador for ClickASnap.com and I have written for publications such as:
Ephotozine
DSLR User magazine
Professional Photographer
Photography Monthly - others...
Trumping all of this, my proudest achievement to date is the huge number of wonderful 5* reviews on Trustpilot and Google - written by people like you after completing my courses. This is what inspires me to continue creating courses to help more people fall in love with photography.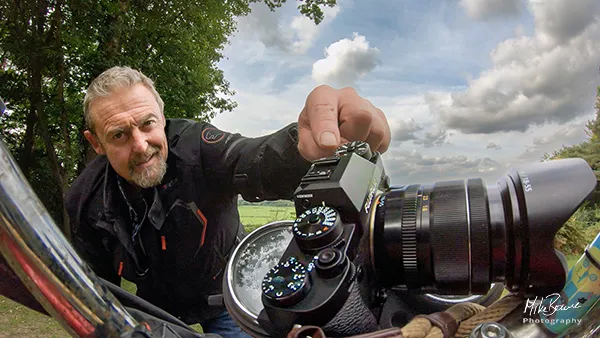 Xposure International Photography Festival - Sharjah, UAE