1 Day - Beginners Photography Workshop
Let's get your photography going...
£175 per person - 10 places only
Ever had those moments when you capture a gem of a photo - but struggle to replicate it? Or times when it's just disappointing and doesn't match the scene's potential? We've all been there, and the frustration is real.
But, there's a solution. Join me and a bunch of fellow photography enthusiasts for an incredible day in this picturesque workshop setting – and I'll show you how.
Picture this: a day of fun, learning, and unlocking simple camera tricks that put exposure under your thumb – no complex manual mode required. Plus, let's talk focal length – the secret ingredient to making your shots pop. Trust me, zooming in does more than just bring things closer.
There are plenty of hands-on activities that tie exposure, focal length, and composition into a neat bow for any shot. There's ample time to practice, and I'll be offering guidance without overwhelming you with jargon.
My goal? To send you home brimming with fresh insights, hands-on experience, and a treasure trove of inspiring photos. We keep things cosy with a maximum of 10 participants, ensuring there's time for everyone. And don't sweat your gear – you can use any camera, including your trusty phone. Join us, and let's unleash your photography potential together.
Picturesque Location
Just look at the photos. What fantastic ingredients you'll have to learn with.
Mudeford Quay is a beautiful location on the Hampshire / Dorset border at the mouth of Christchurch harbour. Opposite is the headland of Hengistbury Head with it's sandy beaches and colourful beach huts. Looking inland are views of the harbour and Quay presenting plenty of photo opportunities.
With it's easily accessible road links, abundant parking and facilities Mudeford Quay is the perfect place for a photography workshop. Scroll down and check out the gallery...
Easy to get to
Plenty of car parking - costs around £14.10 for the day
Ferry to Hengistbury Head takes 10 mins and costs £2.50 each way.
Toilet facilities
A pub and two cafés for refreshments (not included)

Such a great day, lots of helpful hints and tips. Mike was on hand for all of the group to answer questions as well as guide us to get the perfect picture. I came away with some fabulous shots. I will be booking more of Mike's workshops.
Wendy Lamb
Very inspiring. I understand so much more, and know there's loads more to learn. Bring It On!!
Maggie Murray
Very enjoyable day and an excellent tutor made things simple to understand
Tina Marshall
Excellent day - even when the weather was rubbish I learned so much
Will Hershall
Itinerary
9.30 am: Meet and greet in front of The Haven House Inn.
Tutorial sessions includes:
• Why cameras get it wrong
• Controlling exposure
• How to use different lenses and zooms for brilliant photos
• Simple strategy for amazing compositions
• By the end of the morning you'll have learnt to manage these things
1.00 pm: Lunch (not included): This will be in the pub, café or beach bar and is a great opportunity to chat about photography, compare images from the morning and ask questions.
2.00 pm: Practise your new skills in this beautiful location with its beach huts, boats, views of the quay, Needles Rocks and Christchurch Harbour. I'll be on hand throughout to mentor, coach and answer questions.
5.00 pm: Finish.
Beginners workshop images
Your tutor at a glance
I'm flattered to have been called the UK's friendliest Photography Expert (Thanks 500px!).

I'm proud to have made hundreds of videos and spent thousands of hours teaching people like you to see more beauty in the world every day (and to capture that beauty), by thinking like a photographer.
My YouTube channel has served more than 26 Million views and has more than 260,000 subscribers.
I've appeared on TV shows and been asked to speak at some of the best photography events on earth, such as:
Xposure International Photography Festival, Sharjah, UAE
The Photography Show, Birmingham, UK
I've enjoyed a wonderful career as a photographer, presenter and teacher. I even trained as a teacher so that I could reach my full potential and enable others to reach theirs.
As a photographer, I'm proud to have won multiple awards:
Petapixel TopTen Youtube Trainers list
x3 Xposure International Photography Festival Awards
Fuji Commercial - X2 Fuji Wedding
Kodak Gold
14 Master Photographers Association Awards
And I've been lucky to have had exhibitions at prestigious venues such as:
The Master Photographers Association
Royal Photographic Society
Romanian Embassy (London)
Xposure Photography Festival - others...
When not teaching photography I also have a role as a brand ambassador for ClickASnap.com and I have written for publications such as:
Ephotozine
DSLR User magazine
Professional Photographer
Photography Monthly - others...
Trumping all of this, my proudest achievement to date is the huge number of wonderful 5* reviews on Trustpilot and Google - written by people like you after completing my courses. This is what inspires me to continue creating courses to help more people fall in love with photography.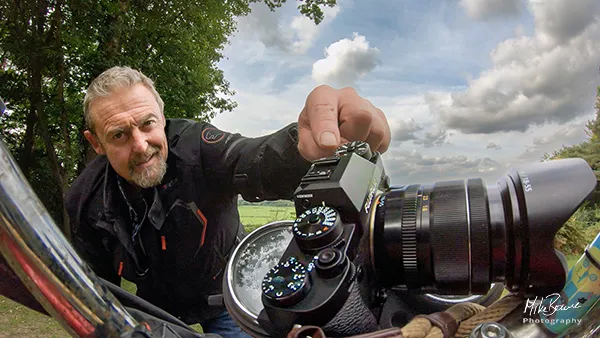 Xposure International Photography Festival - Sharjah, UAE