Lanzarote Photography Workshop
5 days 6 Nights - Sunday 3rd to Saturday 9th October 2021
Price: £895
3/8 Places Left
Who's it for?
All levels of photographer from beginner to experienced wanting to have a photographic adventure in one of the world's most interesting locations. Tuition and advice will be given on location so you'll learn loads, dedicate time to photography with like minded people and come home with hundreds of exciting images.
Why Lanzarote?
Where do I begin? Lanzarote is a small volcanic Spanish island off the coast of West Africa. It has a unique black ash landscape which was used by astronauts for training before going to the moon. Hundreds of dormant volcanoes cover the south part of the island making majestic subjects in themselves, and terrific vantage points to shoot sunsets from.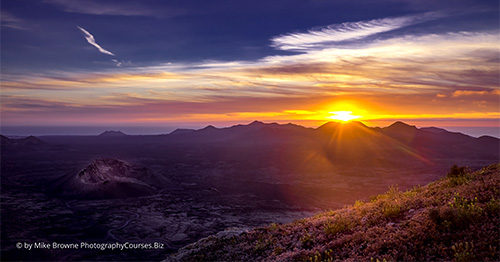 Sunrise offers spectacular views of small white painted towns nestled against the rugged landscape with powerful, lowering skies hanging overhead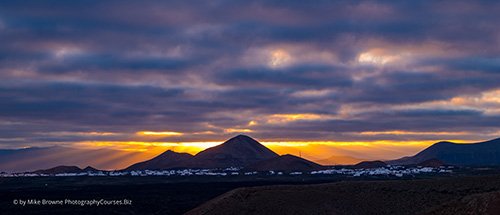 The coast is a rugged, rocky place where Atlantic waves crash into the rocks, with the ever present volcanoes as your backdrop. Perfect for slow shutter movement blur imagery.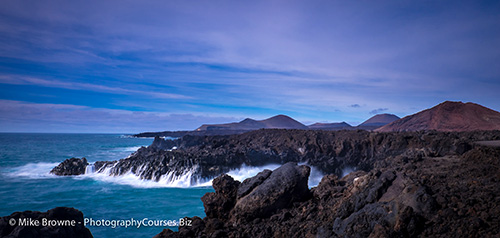 La Geria is the wine region which is dotted with small Bodega's and vineyards planted behind low lava stone walls to protect plants from the hot winds.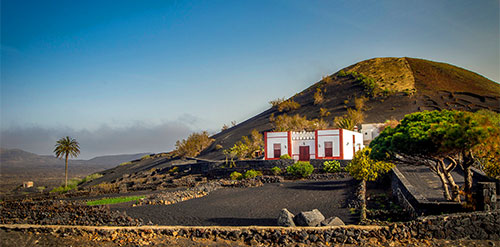 Why wouldn't you want to come too?
There are more photos in the gallery below. For all the information please download an itinerary.
Please use the form below to receive a copy of the itinerary
Where are we based?
We will be based in the quiet 'Old Port' area of Puerto del Carmen which is on the east side of the island about 15 minutes by taxi from the airport in Arrecife.
Lanzarote is about 25 kilometres wide so all locations are in easy reach in our minibus. We will be moving from location to location across the island according to light and weather conditions.
Locations Include (but are not limited to...)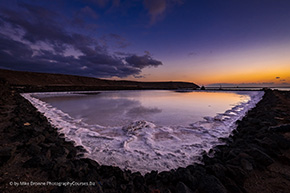 Salinas de Janubio:
Near La Hoya, the 'Salinas' are an almost abandoned salt works where seawater is let in through a series of channels into pools. Heat from the sun evaporates the water leaving the salt behind.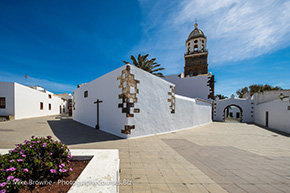 Teguise
The Ancient capital of Lanzarote, Teguise has a attractive town square surrounded with cafes and small shops, an old church, whitewashed backstreets and doorways with still brightly coloured but peeling paint. Also home to Jonny Bakes, the best bakery on the Island :-)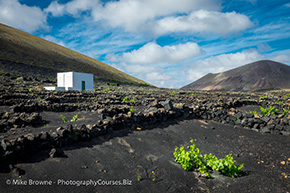 La Geria
The wine region of Lanzarote with it's black ash soil and vines planted in shallow pits or behind volcanic rock walls to protect them from the wind. La Geria has many farms and wine houses called Bodegas, which back onto the volcanoes of Timanfaya.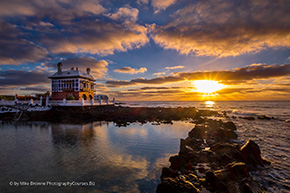 Arrieta
The Red House and its tidal pool is one of the best places on Lanzarote to shoot sunrise. It's different each time and has in itself many possibilities for star-burst shots into the sun and capturing reflections in the pool at high tide.

What will I learn?
Besides creativity and use of light, I will be coaching you on the use of histograms to control exposures to ensure maximum tonal range. This is vital when shooting high contrast situations like sunsets against the black landscape. I will always be available to address individual needs as well. If you want to know something, ask and I'll be happy to help you.
Lanzarote presents unique opportunities for long exposure photography and landscapes. Besides a whole range of camera skills, using Neutral Density filters to blur movement of waves and clouds will be a part of this workshop.
We'll be working with available light in the landscape and planning locations for times when it's most appropriate for the scene.
Planning and learning the thought process of photography is vital for any genre, but particularly so with landscapes and low light work. I call these the 7 Building Blocks of Photography and they are common to all cameras and photographic situations.
Your Guide and Tutor
Mike Browne is a Youtube Photography guru with @13 million views. Ranked number 8 in the world's best photography educators by Petapixel, Mike's approach focuses on training the photographer to pre-visualise the image they want, then think through the steps needed to achieve it in camera.
Mike runs photo workshops and training around the world and his photography / consultancy clients range from private individuals to companies such as Jet Aviation in Switzerland who design and build luxury private jets.
Getting to Lanzarote
Arrecife airport (ACE) is served by many major airlines making daily flights from all over Europe
Accommodation
Accommodation is not included because everyone will have their own needs so it's better for you to choose whatever works for you. Some bring their family for a holiday whist they do photography with me, so they might want an appartment. Others prefer a nice hotel, otheres just want somewhere clean to wash and sleep.
Here's a list of Places to Stay - all within walking distance of our daily meeting place.
If you'd like to speak to me, leave your details and I'll call you back.

£895
3rd - 9th October 2021
3/8 places remaining
Images from Lanzarote workshops
I love this video - it captures the spirit of Lanzarote perfectly. I wish I could claim it as one of mine.
The Lanzarote Effect from Lea et Nicolas Features.
Some homework before you come
The Workshop Prep page has a few specially chosen videos for you to watch to ensure we go straight to work and everyone gets the most out of our location and the training. If we all have a basic understanding of camera controls it helps everyone get the most out of the photo training because we won't waste time on things that could have been looked into beforehand.
For example. If someone doesn't know what is meant by 'aperture' or 'ISO' and they don't know where to find it, I either have to spend time explaining and searching for it in their menus and settings whilst other participants stand around and wait, or I have to leave that person not knowing what we're talking about and consequently they miss out.
You don't need to be an expert - just a basic understanding.