Post Production
£137.77
$179.00 USD approx
Lightroom's NOT for fixing bad photos.
You don't take a photograph - you make it. From getting it perfect in camera to the final polish in Lightroom where you make it your own, convey your personality, excitement and style to your viewer.
Let me teach you the tools and ways to use them, how subtlety has more impact than big sweeping changes, have a vision for your images, how to plan and give you the ability to make that vision reality.
If you don't shoot raw and make your own image files - the camera does it for you. And it has no idea what you want, what excited you to shoot it or how you want your viewers to feel when they look at it.

Click here to view more course details
Who's It For?
Beginner and intermediate photographers who not only want to learn Lightroom's tools and how to use them, but also want direction, how to plan and execute a goal for their images that conveys feelings, personality and meaning to their viewers.
Which Version of Lightroom?
7STPP is for subscription Lr Classic CC (previously just called Lr CC) and stand alone versions Lr6 / Lr2015 / Lr5.

It's relevant to earlier versions back to Lr4, though a few tools featured in the course may be missing from older versions.

If your Lightroom looks like this, you're good to go.
I do NOT recommend 7STPP for the new 100% cloud based 'Lite' version now called Lightroom CC which looks like this...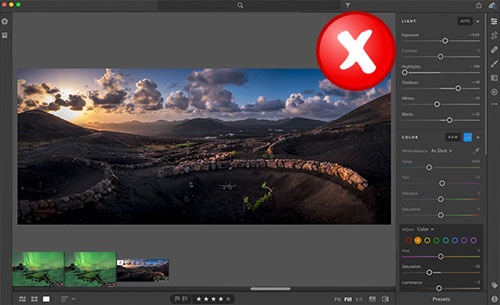 It has a different interface and fewer tools. Adobe have said Lightroom Classic will continue alongside the new version which is geared more towards mobile devices as well as desk / laptops.
What's covered?
(W1-01 = Week 1 - Lesson 1...)
W1-01 This Week - Back To Basics
W1-02 Saving
W1-03 Raw V JPEG
W1-04 The Interface
W1-05 Histograms and 'Basic' Panel
W1-06 Clarity
W1-07 Tone Curve
W1-08 Basic Tonal Range Polish
W1-09 Import to Folder
W1-10 Snapshots and Virtual Copies

W2-01 This Week - Blaze of Colour
W2-02 White Balance
W2-03 Saturation and Vibrance
W2-04 HSL
W2-05 Split Toning
W2-06 Black and White
W2-07 Colour Polish

W3-01 This Week - Little Details
W3-02 Crop Tool
W3-03 Spot Removal Cloning
W3-04 Red Eye Tool
W3-05 Grad Filter
W3-06 Radial Filter
W3-07 Brushes
W3-08 Selective Polish
W3-09 Planning and Execution

W4-01 This Week - Techy Stuff
W4-02 Detail Sharpening
W4-03 Lens Corrections
W4-04 Transform Panel
W4-05 Effects Panel
W4-06 Calibration Panel
W4-07 High Tech Polish

W5-01 This Week - Let's Get Speedy
W5-02 Copy Settings
W5-03 Presets
W5-04 Presets & Local Adjustments
W5-05 Faster Creative Workflow

W6-01 This Week - The Final Frontier
W6-02 Panoramas
W6-03 HDR
W6-04 HDR Look
W6-05 Spot Colour
W6-06 Video Adjustments
W6-07 Exporting
W6-08 Watermarking
W6-09 HDR Polish

W7-01 This Week is About YOU
W7-02 Creative Workflow
W7-03 Where to Start
W7-04 Find Your Interpretation
W7-05 Loving The Light
W7-06 How Far is Too Far
target="_self">

Buying as a gift? Click here