Edinburgh, UK: 2-Day Photo Masterclass
18th - 19th September 2021
Price: £595
1/10 places remaining
Join award winning photographer and trainer Mike Browne for this 2-day Masterclass in the stunningly photogenic city of Edinburgh.
Day 1: Classroom based, interactive analysis of what makes a good or bad image, photography exercises, feedback and group discussion, followed by low light photography of The Grassmarket area and Edinburgh Castle in the evening.
Day 2: Is a photo walk through the city beginning at Edinburgh Castle and finishing on Calton Hill with views across the city towards the Castle and setting sun. This is a rare opportunity to put what we learned on Day 1 into practise whilst it's fresh in your mind.
Download an Itinerary
Suitable for all levels
The Masterclass is about creative thinking as a photographer.
Beginners will need a basic knowledge of their camera and its controls before the Masterclass. If you're unsure, I have some free video tutorials to help before you come. You don't have to be an expert, a basic understanding and the ability to find these controls on your camera is enough. Complete my Masterclass in Photography and I guarantee you'll rock it.
Advanced photographers will find the creative exercises challenging, group discussions enlightening, the locations interesting and my coaching invaluable. This is an opportunity to devote precious time to your photography in the company of like minded people and engage in peer to peer learning as we explore what each of us made from the same locations.
Where we'll be based
Our classroom is in the Grassmarket area which is one of the most vibrant and picturesque areas of the city with its cobbled streets, medieval architecture and inspiring views of Edinburgh Castle. There are many artisan craft shops, restaurants and pubs. The Grassmarket is just 12 minutes walk from the railway station and has plenty of nearby hotels to choose from.
Where we'll be photographing...
What will I learn?
You'll complete the Masterclass with new ways to consider a location, seeing light, improving composition skills, choosing the decisive moment and increasing confidence. You'll be inspired to experiment with new ways to shoot anything from landscapes to street.
Your camera does not take pictures any more than a chef's cooker makes delicious food! YOU make pictures and whilst you need to learn to control it, the camera is merely a tool. It's your observation, use of light, composition, knowing where to stand and when to click which make engaging imagery. And that's what we'll be concentrating on.
Your Tutor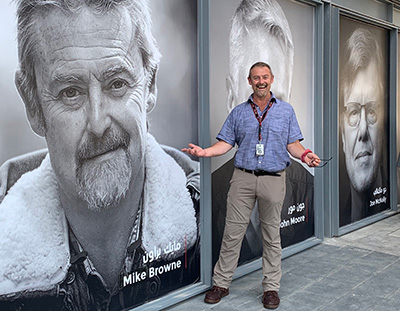 Mike Browne is ranked in Petapixels top 10 best photography educators in the world and has over 265,000 Youtube subscribers.
Mike runs photo workshops around the world with photography / consultancy clients ranging from private individuals to global companies such as Jet Aviation who design, build and service luxury private jets.
He teaches at the prestigious Xposure International Photography festival in Sharjah, UAE, has awards from Kodak, Fuji and Master Photographers Association and has made promotional films for Pentax, Samsung and Olympus.
Getting to Edinburgh
Edinburgh International Airport serves both global and domestic destinations. Rail and road links are excellent. If travelling from outside the EU, please check if you need a UK visa.
Accommodation
Accommodation is not included because everyone will have their own needs and there are plenty of nearby places to stay. A quick Google search will reveal an abundance of accommodation within a few minutes walk or taxi ride from The Grassmarket area.
Booking Deadline 15th June 2021
We require payment in full - Payments will be refunded in full if we don't have a minimum of 7 participants by 15th June 2020. Please book early and help get this Masterclass confirmed - for yourself and others.
Please do not book flights or accommodation until we confirm on 15th June 2021
If you'd like to speak to me, leave your details and I'll call you back.
Price Per Person: £595.00
We'll email you a receipt, itinerary and printable gift voucher (in case it's a present...)
We require payment in full - Payments will be refunded in full if we don't have a minimum of 7 participants by 15th June 2021
PLEASE READ
If you're uncertain what or where the basic camera controls are (shutter, aperture, ISO and focal length) and what they do, please read on.
Visit my Workshop Prep page where you'll find a few free videos to ensure we go straight to work and everyone gets the most out of a Masterclass.
You don't need to be an expert - you just need a basic understanding of a camera and these free videos will do that for you.
For example, if you don't know what aperture or ISO is or where to find them, I have to spend time explaining and searching menus on your camera (and all cameras are different) whilst other participants wait, which isn't fair on them or you.
I want you to get the most from a Masterclass and leave delighted with new skills and great photos you're proud to have taken. By investing just a couple of hours now we can ensure that happens.
All types of camera from a compact / bridge camera to top end DSLR are acceptable and these basic concepts apply to them all.
Thank you in advance

ENJOY A RISK FREE 100% REFUND GUARANTEE
Valid for 60 days from date of purchase