Temples Of Angkor & The Mighty Mekong River
Travel Photography Workshop 25th Sept - 4th Oct 2019

Adventure Travel Photography (In Association with Aperture Asia)
10 Days / 9 Nights
THIS WORKSHOP IS NOW CONFIRMED AND PLACES ARE STILL AVAILABLE
Join award winning photographer and mentor Mike Browne and world class lifestyle photographer Simon Taplin on a photographic journey in the land of temples, monasteries, monks and golden sunsets.
10% of the cost goes to help poor families out of poverty (see itinerary FAQs for more details).
Who's it for?
A two country adventure for discerning photographers that are looking for a unique travel experience. It is suitable for all levels of photographer wanting to have a photographic adventure in one of the world's most exciting and historical locations. There are opportunities to develop your image files and get regular feedback so you can track your progress. Tuition and advice will be given on location so you'll learn loads, dedicate time to photography with like minded people - and come home with hundreds of exciting images and stories to tell.
Make a positive difference as you get beautiful images
Rural areas often have the most fascinating images and friendliest people, though many live on as little as US$0.50 cents per day. We believe in giving back to these people and have teamed up with Mekong Plus who run social enterprise projects to help people out of poverty. Mekong Quilts for example, train villagers in making beautiful, practical handicrafts and they're paid around US$120 per month.
The products are sold in Mekong Quilts' shops Saigon and Siem Reap to raise funds for more projects, including sponsoring children through school. We donate 10% to Mekong Plus so you'll make a difference just by coming on the workshop. We love a win-win :-)
Where are we based?
We will spend the first five days in Siem Reap, Cambodia with the temples and pagodas of Angkor Wat, farmlands and fishing villages. Then it's a short flight down to Phnom Penh where we take a boat down the Mekong river to Chau Doc in Vietnam with it's street and floating markets. From there we'll visit magical Tra Su forest and then onto Saigon for departure. Full details are in the itinerary.
Locations include (but are not limited to...)
The dates for this workshop have been chosen to coincide with the gap between tourist breaks because Angkor is completely packed at these times. More photos in gallery below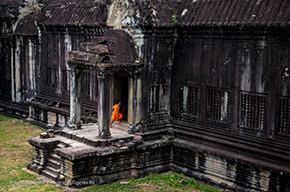 Angkor Wat: Angkor is a world of constantly changing views, monks, incense smoke and prettily detailed pools of light. It is a place where it is often best to find a location and wait a few moments for something to happen in it. This monk against the black masonry is a classic case in point...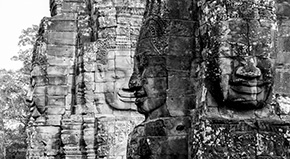 Angkor Thom: Once the worlds largest city in the 12th century, Angkor Thom which in itself includes many temple complexes. We'll be setting a photo challenge at Angkor Thom to find this photo of the four faces of Buddha. There is only one spot it can be photographed from, so study it well...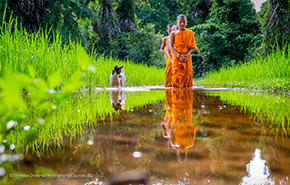 Bakong Temple Lolei Monastery: This is a working monastery where you'll have the opportunity to photograph the monks at their daily work, novices in the schoolhouse and other activities of a working monastery. There may be an opportunity to ask the monks to pose for portraits and actions as we did here to capture their reflections in a rice paddy.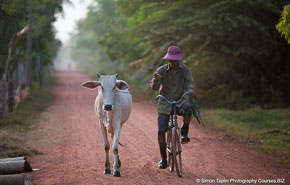 Farmlands in the country: A short distance outside Siem Reap are the rural areas where the farmers grow rice, herders and children bring the cattle home in the evening and rice paddys reflect the sunset. Tiny villages, isolated trees await you. We usually travel by TukTuk though for the more adventurous of you it may be possible to use Quad Bikes to explore this rarely visited area that's only 20 minutes from the hotel.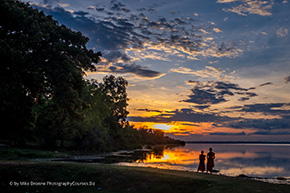 Wat Svay Romeat Pagoda / West Baray: Cambodia has an ingenious system of lakes called Barays. The water can be raised, lowered and moved around the country to areas where it's needed. West Baray is one of them and with the Pagoda on its banks it's one of my favourite sunset locations.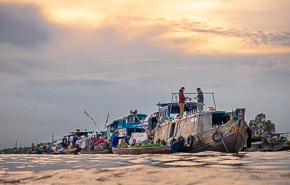 Floating Market Chau Doc: Shoot daily activities on the local floating market , where many boats laden with fruits, vegetables and fish jostle for trade. Sellers advertise their wares by crying out across the waters or tie their goods to a tall pole attached to their boat so that buyers can see from a distance what is being sold. Be sure not to miss the great photo opportunities for authentic shots of the Mekong people and their life.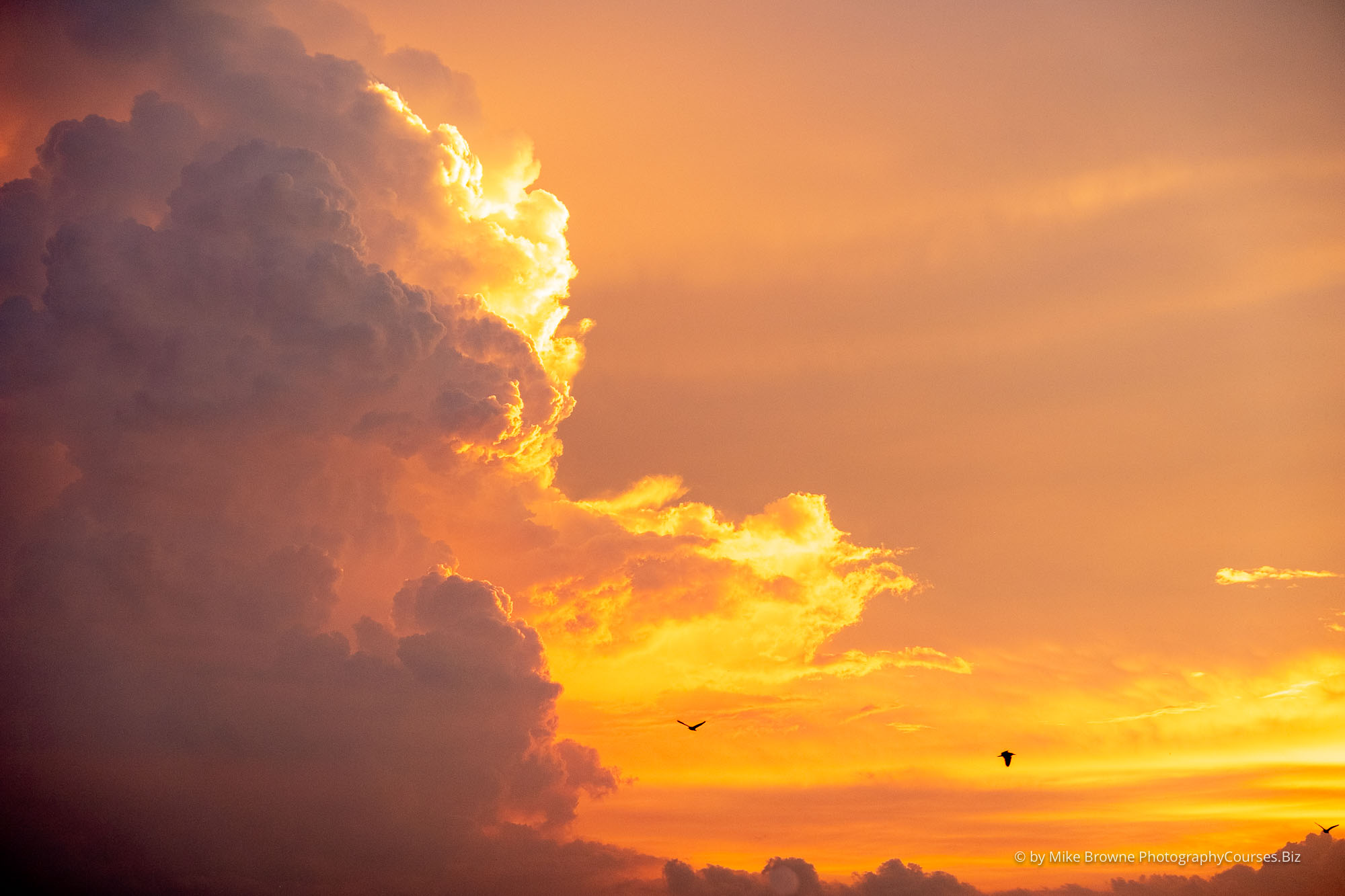 Tra Su Nature Reserve: Is an ecological heaven.
It is the habitat of many unique water birds and colonies of bats. Tra Su flooded indigo forest covers about 845 hectares and is best explored by motor boat and rowing sampan on the carpet of water-fern.
More images in the gallery below...
Please download an itinerary

What will I learn?
We will be coaching you on all aspects of travel photography from street life to portraits, landscapes to reflections and food.
This workshop presents unique opportunities for all kinds of photography. It's not a case of looking for photos so much as choosing what to photograph. The people are completely OK about being photographed so if you've been nervous about street photography, we will coach you in that.
Sunsets are dramatic and colourful and we'll work with you to get the best from them by knowing how to compose the shot to include the location so it's more than just a 'pretty sky'.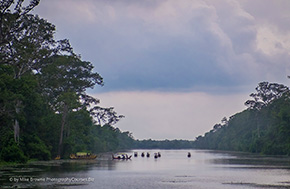 Light in the landscape and planning locations for the time when light is most appropriate for the scene. We'll be using negative space to give a feeling of space and size. Even in the rain there is plenty to photograph, like these fishermen returning home at the end of the day on the Baray at Angkor Wats main gate.
Planning and having a clear thought process is vital for any genre. I call these the 7 Building Blocks of Photography and they are common to all cameras and photographic situations. You may have heard of this course and we'll be using techniques and processes from it throughout the workshop.
What's it like?
To give you a sense of what it's like to shoot a workshop location with Simon and I, here we are at The Spirit Gate at Angkor Wat in Cambodia...
Your Guides and Tutors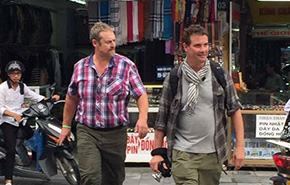 Simon Taplin (right) is probably one of the most versatile photographers who confidently embraces a holistic conceptualisation approach in visual presentation.
Patient and sensitive to his students' needs, he has a knack for transforming the most technical jargon into easy-to-understand analogies that help ensure their learning is memorable and fun at the same time.
Simon's client's include Getty Images, Singapore Airlines, Heineken and world class advertising agencies and he's one of the most down to earth fun guys you could wish to meet.
Mike Browne (left) I've been a social and commercial photographer since 1993, have always
had a love of travel and new cultures - and passion for sharing my knowledge with others. Which, according to the 1000's of lovely emails and comments I receive - I'm very good at.
I have worked for all kinds of clients from high end weddings to hotels and electronics manufacturers. I have awards from Kodak and Fuji, been sponsored by FujiFilm, had exhibitions displayed by the Romanian Ambassador in London, The Master Photographer's Association and the Royal Photographic society.
I have a teaching qualification and a sense of mischief ;-)
Download an Itinerary for more info on both of us...
Flights to and from...
Arrival: Siem Reap, Cambodia has many international routes within Asia and is only 2 hours connecting flight from Singapore and Kuala Lumpa for those travelling from further afield.
Departure: Saigon international airport is the largest in Vietnam with many direct flights to cities around the world and many connecting flights to Singapore and Kuala Lumpur.
Accommodation
Accommodation for the duration of the workshop is included in the price. If you wish to stay a few nights before or after, please make your own arrangements as these are not included in the tour price.
Bring a non photographer partner
We know many photographers would like to bring their non photographer partners to share the experience, so we have 3 non participant places available at a discount from the full twin share cost. Partners are invited to accompany us on all location tours at no additional cost, explore on their own or relax at the hotel.
Non photographer partners: US$4,600 (£3,646 approx) non participant
1:7 instructor - participants ratio (min 7 / max 14) - Classroom tutorial sessions are for full participants only.
If you'd like to speak to me, leave your details and I'll get in touch.
And to help you really a feel of it, here's a great little B-T-S video of us location scouting ...