| | |
| --- | --- |
| Masterclass in Photography is knowledge and knowledge is power | 17th Nov 2017 |
From our feedback form
Masterclass in Photography has...
Put me in control of my photography.
What are the differences before Masterclass in Photography & after?
Before taking the course, I thought photography was in large part just pointing the camera, adjusting the settings then pressing the button. Now I know that it is not always that simple. There is a lot to think about before actually pressing the button. Not only the composition but what the camera is going to "think" of the scene being too bright or dark.
Using manual on what can be a point and shoot camera was something that took a little getting used to, after so many years not using manual. But after this course I find myself slipping back into the manual mode from the film days feeling like a familiar glove.
The Masterclass in Photography is worth..?
To me, knowledge is power, and having the ability to put that power into practice is priceless. This course imparts a great deal of knowledge in a simple concise manner.
Would you recommend The Masterclass in Photography?
Yes I would, and have to several people.
Anything else you'd like to say?
I did not consider myself to be a beginner when I signed up to take the Masterclass in Photography. Mainly because I had already shot for 20 years on a film SLR before digital came out. I had no formal photography training, nor even thought there was such a thing back then.
Even though I was very familiar with the settings of a camera, I found I did not truly have a grasp of them. After all, to me taking a picture was as simple as pointing the camera, setting the focus, changing the settings to put the little needle of the light meter in the middle, then pressing the button. What is so difficult about that? Boy was I ever wrong... sort of.
When the light meter quit on my trusty SLR, I made the switch to digital. At the time the DSLR was not an option once the kids came along. So, I went the point and shoot route and became spoiled. Over time I forgot about all the settings, and let the camera deal with them, it was great... so I thought.
To my surprise, I learned something in the very first week of the beginners photography course. The saying is true, you don't know what you don't know. In any class I take, no matter how well I think I know the material, there is always something to learn.
This course is no exception, even though the material is geared toward the ultimate beginner there are nuggets of information for everyone if one has the right attitude toward learning. I took this course with the expectation of learning something, and I learned so much that I didn't know that I thought I knew.
James Cornwell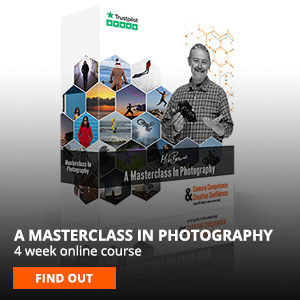 .