| | |
| --- | --- |
| Masterclass in Photography has put me in control of my photography | 21st Sep 2017 |
From our feedback form
Masterclass in Photography has...
Made a huge difference to my photos.
What are the differences before Masterclass in Photography & after?
I now know a lot more technical stuff about my camera. I also got some good ideas on how to compose a picture and make it look interesting.
The Masterclass in Photography is worth..?
Difficult question... I would have loved to pay less, saying something like £20-30 because most of it is give away in your free-to-watch videos anyway.
Would you recommend The Masterclass in Photography?
Indecisive, cost to what-you-get ratio is still questioned.
Anything else you'd like to say?
I would like to explain myself:
Having initially thought about getting this course or the 7 block-course I figured I'd start with the basics. However, this course IS rather basic, and by the time I started week 2 or 3 I had already watched most of your (excellent!) free videos on youtube, so already knew a lot.
Therefore I should have probably gone for the 7 block-course in the first place, because this course did not contain a lot of new information for me.
Having payed £70 already makes me not want to spend another +-£120 for the 7block-course.
But I guess this is kind of a wrong choice of product made by myself, the footage you provide is awesome!
Dario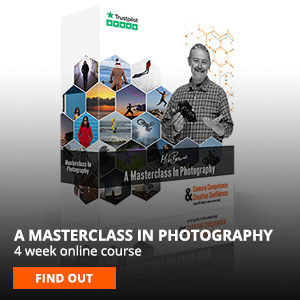 .