| | |
| --- | --- |
| Masterclass in Photography is a great course delivered in a relaxed style | 30th Jan 2020 |
From our feedback form
Masterclass in Photography has...
Put me in control of my photography.
What are the differences before Masterclass in Photography & after?
I have a much better understanding of the creative role of aperture and shutter speed which I am trying to apply - especially for freezing action and the effect of DOF. I have managed the blurred water effect and freezing a moving vehicle, as well as isolating subjects with shallow DOF. Also the tip about moving a few inches in any direction to aid composition is so useful. I hadn't realised the horizon was so mobile!
Is the course value for money?
Absolutely. There is so much material covering the basic essentials, and you can keep revisiting the videos and worksheets when attempting new things.
Would you recommend The Masterclass in Photography?
Totally. While I've enjoyed photography for a couple of years, it's been a bit hit and miss. I have never really understood the technical bits - especially exposure triangle, and focal lengths. Mike makes these much less scary, and the relevant exercises help me to memorise them. I just picture a little soldier in the snow ....
Tell us about your achievements & how you feel about them:
Much more confidence to try new things. If they work I know why - and, just as importantly, if they don't I can work out where I went wrong and have another try.
Anything else you'd like to say?
A great course delivered in a relaxed style and Mike's enthusiasm is infectious. Thank you so much.
Carolyn Eyles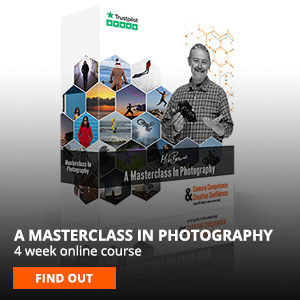 .