| | |
| --- | --- |
| Masterclass in Photography helped me control my photography | 18th Oct 2018 |
From our feedback form
Masterclass in Photography has...
Put me in control of my photography.
What are the differences before Masterclass in Photography & after?
It has helped me understand how to visualise a scene and use the settings on my camera to obtain the effects I want to create. I now know where I was going wrong and why some of my photos didn't turn out as I expected them to. I see photography is a technical art and to achieve the results I wanted an understanding of some of the parameters was missing from my knowledge.
Is the course value for money?
Considering the effort put in by Mike, the camera operator and Tash must have taken time; so yes I consider it good value for money. Even if a person only learns one thing to improve it has to be worth the cost.
Would you recommend The Masterclass in Photography?
Yes I would and I will, the relaxed approach and the breadth of knowledge imparted makes the Masterclass in Photography worth recommending.
Anything else you'd like to say?
Well done to all producing the lessons. I need to save up for the next set of training now as there is quite a jump in costs. The time it takes for me to save will be well used putting what I have learnt in to practice. Keep up the good work, best wishes to all concerned.
Paul Froggett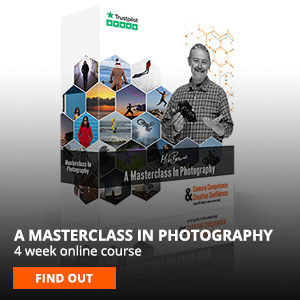 .