| | |
| --- | --- |
| Taking the Masterclass in Photography turned out to be one of my better decisions | 28th Jun 2019 |
From our feedback form
Masterclass in Photography has...
Given me confidence.
What are the differences before Masterclass in Photography & after?
Before taking this course I was more snapper than photographer. Occasionally I'd surprise myself and get a nice photo and put it down to dumb luck. Now I find myself more in charge of the final outcome when I press that shutter release.
Is the course value for money?
This course is worth every penny. Mike's delivery in the videos is excellent . You get the technical explanations without the techno babble and then are encouraged to get out there and practice, practice, practice, and for me, that's the game changer. Working through the exercises is a must, but loads of fun, and you can revisit them as often as you like if you're not sure of something. I definitely feel more in control of my photos now and it's all down to this course that Mike has so brilliantly put together.
Would you recommend The Masterclass in Photography?
Would I recommend the Masterclass in Photography? Absolutely, 100%. I can't wait to get out there with my camera now I know what I'm doing.
Tell us about your achievements & how you feel about them:
My family think I'm an expert now. Lol 😂
Anything else you'd like to say?
Taking the Masterclass in Photography turned out to be one of my better decisions. Thanks Mike.
Anthony Hodgkin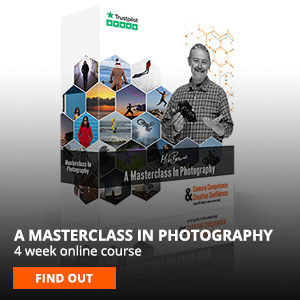 .