Get Creative
with our photography locked-down challenges (PLD)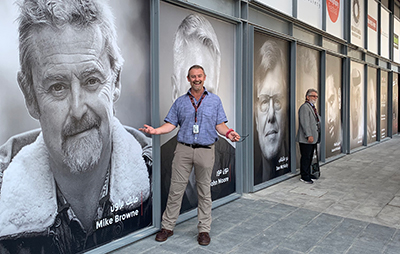 Want to lock down your creativity? Cameras are wonderful pieces of tech, but they're not creative. Does your camera have great ideas or see images for you? Does it recognise beautiful qualities of light and use them appropriately, or come up with intriguing compositions? No - that's your job.
You and your creative thinking are the most important things in all photography, but You are often overlooked in favour of the latest upgrade or gadget. There's about 5 camera controls you need, everything else is you.
I'm an internationally recognised photographer and trainer with over 25 years experience. Ig you really want to dig deeper - Google me. Mike Browne and don't forget the 'E'
I do know my stuff - and I'm here to be your creativity coach.

What do I get?
Tutorials and creative challenges that will get you thinking outside the box, seeing more beauty in the world around you and capturing it perfectly - with any camera and at any level. Live feedback sessions on Youtube and prizes for competition winners. These are released every two weeks.
The most friendly, supportive and actively creative Facebook photography group, of all levels from complete beginner upwards.
How much does it cost?
It's free to join in. All I ask is that if you find it valuable, please support us by making a small monthly donation. You can easily cancel if you choose to move on...
How do I join In?
Enter your details in the form below so we can notify you of each challenge tutorial and live judging / feedback event
Upload one (1) image to the relevant challenge album in the Photography Locked Down Facebook group and include the challenge # in the description
A small voluntary donation to support running costs is greatly appreciated by everyone
Current Challenge Theme: Let's Celebrate
Hashtag: #pldcelebrate
Closes: 13.06.21 @ 11:59pm [UK Time]
Live Feedback: 17.06.21 @ 7:00PM [UK Time]
⬆️ Examples & Ideas ⬆️
Watch Me Shoot Winter Solstice Celebration At Stone Henge
The Brief:
A photographer must first choose a way to interpret and create an engaging image which reflects the theme of Celebrate. What could you celebrate? There are birthdays, weddings, love … All forms of joy are a celebration of simply being alive, like a kiss, two little boys playing in water or two bigger boys 'Air-Guitaring'! How about celebrating the sun in the sky, a new day, season or new year?
What do you honour, revere, exalt or rejoice in? Celebrating the beginning or end of something - or someone. When my totally wonderful mother died we had a celebration lunch, remembered all the light and joy she brought into this world, told stories about all the times she made us laugh doing the crazy things she did. I wish I'd thought to photograph it.
The first step is some creative thought about what a celebration means to you. Unless your very sure of your idea, I recommend you let it sit for a couple of days. You may be surprised how often you notice things in your day to day life which you can celebrate.
Next is to use your photographic skills to capture it to the best of your ability. Don't do it for the number of likes, comments or kudos you might get in the group, do it as an exercise not a competition. PLD challenges are called challenges for a reason. It's not a competition and You might surprise yourself
The Intention:
PLD Challenges are not about winning or getting a shout out. The intention is for you to give your creativity a workout and make your head hurt a bit, like muscles after a good session in the gym. It;s about practising and growing your skills because cameras don't take interesting, engaging pictures which make a viewer stop and look - You do.
Photography is a skill and like any skill you want to master you have to get out there and do it - a lot. How much time does a musician, sports person or chef spend trying new things, practising, getting it wrong and trying again? Photography is no different.
First you learn how to play your instrument (your camera), then how to make beautiful music with it (your images). If you're struggling with any aspect of your camera skills, basic use of light and composition I can help you with my Ultimate Beginners Course. And if at the end of it you think I haven't done that, I'll give you your money back. Fair enough?
How It Works
Competition Rules
ONE entry per person - Include the weekly #hashtag in the text field
Entries MUST be posted to designated album in the Photography Locked Down group by 23:59pm [UK Time] on the closing date of each challenge.
No archive images. Entries must be taken specifically for each challenge
Live Judging
Judging and feedback sessions are Live on Youtube. Dates and time are published with the challenge theme, it's usually 19.00pm [UK Time] alternate Thursday evenings. Links are posted in the Facebook group or simply visit My Youtube Channel where recordings are archived if you can't make the live event.
Leave your email in the form at the top of THIS page and I'll send you a reminder and other good stuff so you don't miss anything.
Prizes
Winners get to choose any one of my individual online courses (In Full Focus package not included)
Runners Up receive a free place on one of my sell-out webinars

Please Help By Sharing PLD...
With your photography friends everywhere. Please use this link and the # below it.
www.photographycourses.biz/photolockdown
#photolockdown