| | |
| --- | --- |
| Photography Course is Very easy to understand and well demonstrated | 30th Apr 2019 |
From our feedback form
Masterclass in Photography has...
Put me in control of my photography.
What are the differences before Masterclass in Photography & after?
Having just bought a good quality camera thinking this is going to be easy, just point and shoot using "auto" - the results will be great photos. How wrong I was.
Family members looking at my photos just thought they were very ordinary and nothing to shout about (I know now this is all about composition and of course other aspects of photography you learn on the course - to numerous to mention here).
It was not long, actually after "Week One", until I was off "auto" and on "manual" having a much better understanding of the "exposure triangle" giving me confidence to set various apertures for depth of field, shutter speed for moving objects etc. ISO was also an important lesson learned including white balance. Mike provides too many excellent lessons to identify here.
Is the course value for money?
I would have no hesitation to say the course was value for money. The great video presentations and the way Mike puts over the information is easy to understand and as long as you go and do the exercises, you will learn.
Good supporting documentation which you can print and take with you - just to refresh your memory.
Would you recommend The Masterclass in Photography?
Would recommend this course as it takes you from being an absolute idiot in photography to, I would say, a person who has a good understanding of how my camera works (I have a Nikon similar to that demonstrated on the course) and to try and succeed at getting good photos which family members would now like a copy of.
Anything else you'd like to say?
Well, I think anyone who wants to take up photography would never go wrong by taking this course. Very easy to understand and well demonstrated and illustrated by Mike.
I will be looking at "Photoshop for beginners" shortly as in Week 5 it talks about "RAW files" which interests me.
Thanks
Jon Britton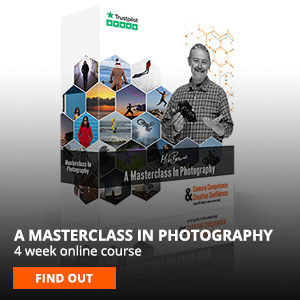 .