| | |
| --- | --- |
| Photography Course is great value for money | 14th May 2019 |
From our feedback form
Masterclass in Photography has...
Put me in control of my photography.
What are the differences before Masterclass in Photography & after?
I certainly understand the controls on my camera so much better than before and the inner relationships of the big three. Starting out with manual mode is a brilliant approach as it really helps you understand how everything works. The exercises really drive home how things interrelate! I am a rank beginner have bought my first camera in January of this year, so have helped me make great strides in a very short period of time. Thanks!
Is the course value for money?
I absolutely feel that I received great value for the money. Looked at local one day beginners course that were more money and certainly would not have provided the same in depth understanding of the art of photography!
Would you recommend The Masterclass in Photography?
Certainly would recommend the course to anyone. I was attracted to the course through watching your Tube videos and your approach to instruction. I feel even stronger about the value of your instruction techniques after completing the course.
Tell us about your achievements & how you feel about them:
No achievements yet worth mentioning or attaching but I am sure I will have many soon.
Anything else you'd like to say?
Thanks for a great educational experience!
Jeff Gilbreath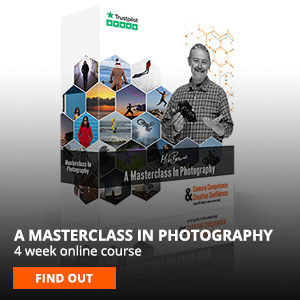 .