| | |
| --- | --- |
| Photography course is a clear and easily understood learning process | 12th Oct 2018 |
From our feedback form
Masterclass in Photography has...
Improved my photos.
What are the differences before Masterclass in Photography & after?
I now know were the various controls are and what they do. (mostly without looking for them...) I understand depth of field and how to blur the background, I am not quite so sure how to judge focal length but I am working on it . My interests are Macro (I have a 105mm macro lens and I like taking flying birds and aircraft 118-300mm zoom.
I am 84 years old so don't do much crawling round the floor as getting up is the problem, but I have enjoyed your course and will continue to practice. I have got Affinity on my laptop and have now got to learn what to do with it
Is the course value for money?
Yes I think so, it has given me a good grounding in my new hobby and a clear and easily understood learning process. Thank you Mike.
Would you recommend The Masterclass in Photography?
Yes I would for the reasons given above.
Tell us about your achievements & how you feel about them:
I belong to a camera club and we are on facebook I have had lots of likes and am quite pleased with what I have achieved.
Bryan Freeman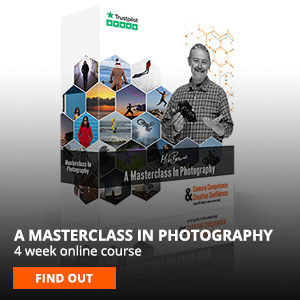 .