| | |
| --- | --- |
| Photography Course has given me confidence | 21st Apr 2019 |
From our feedback form
Masterclass in Photography has...
Given me confidence.
What are the differences before Masterclass in Photography & after?
It's so easy to simply not try something, convincing yourself that the next lens or new camera body, or if I wait until my next holiday in the perfect location, will be the catalyst to photography stardom.
Completing Masterclass in Photography has enabled me to revisit my photographs and realise that actually some of them are quite good. Being British that last statement would, at one time, seem like boasting, simply "not the done thing". Completing Masterclass in Photography has shown me that not only can I evaluate my images but that I SHOULD evaluate my images.
I like the non judgemental tone of the course and Mike's enthusiasm and gentle pushing to achieve the part of the course. I considered myself and experienced photographer before the course, now I consider myself a confident photographer.
Is the course value for money?
How much do want to pay for Mike's expertise? To have the guidance of a professional photographer, sharing his knowledge to make you a better photographer? In short yes, definitely value for money.
Would you recommend The Masterclass in Photography?
Absolutely.
Nikki Biddle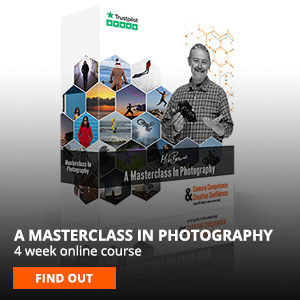 .