| | |
| --- | --- |
| No other photography courses were as informative as this one | 16th Jan 2019 |
From our feedback form
Masterclass in Photography has...
Made a huge difference to my photos.
What are the differences before Masterclass in Photography & after?
Before the Masterclass in Photography Course I was an absolute beginner and knew nothing about photography (other than point and shoot in auto mode). Now, after the beginners photography course I understand so much more about exposure, composition and lighting and no longer have to shoot in full auto mode.
Is the course value for money?
Absolutely worth every penny! Before I heard about the Masterclass in Photography Course, I paid about the same price for a 3 hour course at a local camera shop which I got almost nothing from. 3 hours as opposed to 6 weeks. Doesn't take a math teacher to figure that one out...
Would you recommend The Masterclass in Photography?
I already have! I have watched other videos and taken other courses and none were as informative (and fun!) as this one. Mike is knowledgeable and charming and his love of photography is contagious.
Tell us about your achievements & how you feel about them:
I am by no means an expert because that's going to take a lot more practice but I have gained so much confidence and can really see a difference in my photography.
Thanks Mike, for an excellent experience all the way around.
Carolyn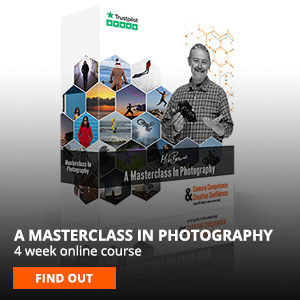 .