| | |
| --- | --- |
| Friendly, clear and enthusiastic teaching methods | 8th Mar 2021 |
From our Feedback form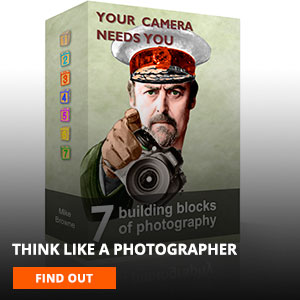 7 Building Blocks of Photography has...
Made me think things through.
What are the differences before 7 Blocks & after?
Having a plan before pressing the shutter!
What is the course worth to you?
Difficult to put a monetary value of the course! It is priced about right.
Would you recommend The 7 Blocks?
I have been taking 'snaps' for quite a few years now and was getting disappointed with the results which produced a decent image only on rare occasions! I decided I needed some help in 'upping my game' to try to produce more satisfying images on a regular basis and after looking at a number of free videos on Mike's extensive website decided to embark on his 7 Building Blocks of Photography online course.
Mike 'strips back' the techniques of picture taking and creates thought provoking ideas to enable you to improve your photography both in terms of developing your understanding of the basic use of the controls on cameras and more importantly looking at the world through a photographer's eyes!
Mike's friendly, clear and enthusiastic teaching methods enable you to consider how to improve your photography skills and his use of real photo assignments (portraiture, still life and landscapes) take you through the ideas he discusses. The worksheets provide a summary of the concepts discussed and the assignments in the worksheets enable you to develop your skills in specific areas.
I would suggest that before you complete this course, you have a good understanding of how to operate your camera to produce images and use the 7BB concepts to improve your skills to move from taking 'snaps' to produce images of which you can be proud!
Highly recommended.
Andy Louch