| | |
| --- | --- |
| FREEDOM is a perfect word to express how I feel | 1st Oct 2020 |
From our feedback form
Masterclass in Photography has...
Made a huge difference to my photos.
What are the differences before Masterclass in Photography & after?
I know what I'm doing instead of guessing. Trial & error now has a purpose, because I know why & what I'm doing. I can create instead of take (and hope) photos with a purpose in mind.
Is the course value for money?
Better investment than the $2,500 camera. I know how to use the tool. I know HOW and WHY to USE the the camera. Best return on investment as it MULTIPLIES with the value of the kit & every time you use it. BEST MONEY SPENT!!! because it has IMPROVED MY SKILLS!!!!.
Would you recommend The Masterclass in Photography?
Taught is simple terms but not simply taught. Examples, common sense, everyday terms & no "stuffiness". The issues are delt with, you can remember, it is hands on, DO the EXCERCISES and you learn the WHAT you need to do & WHY you should do it. The BEST instructor for me.
Anything else you'd like to say?
I can frame, create, & visualize a picture. Resolve issues prior to taking a shot & after taking a shot. Not afraid to state a shot. I use my phone camera more as well. Able to enjoy the event without pressure to take a photo.
Anything else you'd like to say?
I will be sending before and after photos later. FREEDOM is a perfect word to express how I feel. Now I need to tackle Light Room, but I'm going to practice photos first. It's fun!
Kent Adams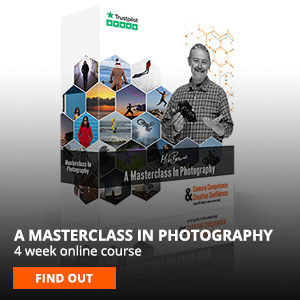 .