| | |
| --- | --- |
| Masterclass in Photography delivered what it promised and didn't oversell | 12th Feb 2018 |
From our feedback form
Masterclass in Photography has...
Put me in control of my photography.
What are the differences before Masterclass in Photography & after?
I have a much greater understanding of my camera and the controls. I love working in manual mode over the semi auto modes now, even if it takes longer.
Composition is still a major challenge, as well as lighting. Your course should come with a warning, as I now grovel around on the ground for the perfect shot! Not so easy to get up again at my age!
The Masterclass in Photography is worth..?
Moonbeams.
Would you recommend The Masterclass in Photography?
Yes, because it delivered what it promised and it didn't oversell. And I love Mike's explanations.
Tell us about your achievements & how you feel about them?
I have now joined our local camera club, and was pretty pleased when the man told me to do such and such and I understood what he was talking about!
I can bore the pants off people less knowledgeable than me about ISO's, apertures and lense lengths.
Anything else you'd like to say?
Still struggling with the motion exercises, after standing out on the road with my camera people thought I was a speed camera and slowed down!
I live miles away from civilisation, so have to make do with stuff on the farm. There are great photos everywhere.
I would just say that a new camera has made a huge difference. I know you say cameras don't take photos, but after my old Canon20D, it is like going from a Morrie Minor to a Ferrari. I love it.
Virginia Long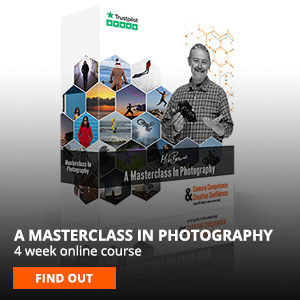 .