| | |
| --- | --- |
| Masterclass in Photography has without doubt improved my photos | 14th Sep 2017 |
From our feedback form
Masterclass in Photography has...
Without doubt improved my photos.
What are the differences before Masterclass in Photography & after?
I take more time to take a picture and actually look for some kind of composition - at least I try, but I still have the feeling that I don't always see the potential of a certain scene...
[ED: Keep practising and looking around you Michael and it will come - Mike Browne]
Also, I feel quite confident now when using the manual mode, although I am using the aperture priority most of the time to be able to choose the right aperture.
The Masterclass in Photography is worth..?
It's great value because I will return to the information for quite some time as I am sure I'll forget some things in the long run and need to revert to parts of the course again (at my age my memory!)
Would you recommend The Masterclass in Photography?
Definitely! Especially for beginners it's a great help and as mentioned above, one can always return to the different subjects.
Anything else you'd like to say?
I really liked your article about the comfort zone. I realised that I sometimes feel uncomfortable taking photos in certain situations - looking at other people and wondering what they might think of me.
Or sometimes I think too much, wait, then take the photo the next day. Your article really brought all these feelings to a point. So I am working on it :-)
Michael Tournee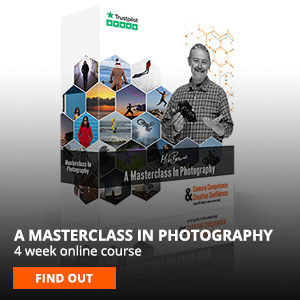 .