| | |
| --- | --- |
| Beginners Course is taught in a simple and friendly way | 20th Mar 2019 |
From our feedback form
Masterclass in Photography has...
Made a huge difference to my photos.
What are the differences before Masterclass in Photography & after?
I have learnt to understand and be in control of my camera and how to compose a good image also a straight-forward process to follow when taking and composing photographs - which has given me the confidence and the encouragement to get out there more often! At the end of the course I felt far more confident about photography in particular moving from auto to Tv, Av and even M! And especially exposure compensation!
Is the course value for money?
Absolutely, moved on from a complete novice with little or no idea to become a competent beginner; now ready to become an intermediate! Money well spent and I can always go back over and revisit parts of the course as a refresher.
Would you recommend The Masterclass in Photography?
Taught in a simple, friendly and effective way. Lots on the worksheets and the tasks move in a logical format. Already there are improvements that can be seen and I was controlling the camera in a way I haven't before. Literally after just a few hours! Going from luck to knowledge is invaluable.
Tell us about your achievements & how you feel about them:
Very early days as yet but friends and family are beginning to say "now that's a nice photography" and getting some likes and the occasional applause at the camera club!
Anything else you'd like to say?
To misquote Albert Einstein 'on how to learn' - "This is the way to learn the most. When you are doing something with such enjoyment that you don't notice that the time passes."
So true - Thanks!
Mike Jenner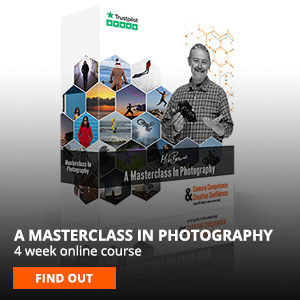 .