| | |
| --- | --- |
| Beginners photography course is inspirational and well structured | 25th Jun 2019 |
Google review:
I recently completed the Masterclass in Photography, and what an inspirational and well structured course this is. I used to have a film camera way back when, but then that format practically became extinct and so did my photography. Fast forward several years and I recently bought myself a DSLR, with an idea of the sort of images I'd like to capture but no real idea of how to achieve it.
I started watching "how to" videos on line which were ok but then I came across Mikes channel and was hooked. "This guy knows how to teach in a way that makes sense to me" I thought, so when I found out about the Masterclass in Photography I thought I'd give it a whirl. I've got to say, that was one of my better decisions. I must admit I wasn't sure it would be for me. I thought the amount of information might be overwhelming, but Mike's style is to gently lead you through the process one step at a time and encourage you to have a go.
From Week 1 I was up and running. Everything to gain and nothing to lose. I love the way the technical aspects are explained thoroughly but not in a mind blowing way. And the videos are so, so helpful. Seeing how to practice getting depth of field right, and understanding it, for example, is on another level to simply reading about it. Of course practice is key and I found that the worksheets were a great way of getting me out there to try out the different techniques for myself. And you know what? It's paying off.
Before I took this course I would get loads of forgettable photos and, very occasionally, get a really good one without much of an idea how I managed it. Ok, I still get some ropey images (what the heck I'm a learner) but now I understand why. And that's the key. The number of "keepers" I'm getting has increased big time and that can only be put down to what I've learned, and am still learning, through this course.
Someone said (I think it was you Mike) that the more you practice the luckier you get. Well I'm getting quite a bit luckier since taking this course. If I'm not sure of something, I just revisit the relevant bits then get out and have go. I must say I've had quite a few "light bulb" moments when I've been out and about with the worksheets and things have clicked into place.
Anyway, thank you for this course Mike. You've taken me from occasionally lucky snapper to enthusiastic photographer.
Anthony Hodgkin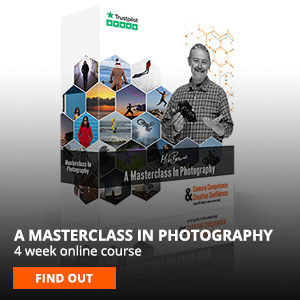 .