| | |
| --- | --- |
| After Masterclass in Photography I'm shooting raw images which I rarely did before | 22nd Aug 2018 |
From our feedback form
Masterclass in Photography has...
Improved my photos.
What are the differences before Masterclass in Photography & after?
I'm shooting raw images now, which I rarely did before. I understand the histogram better. I had experience with film photography and was comfortable there. Although I was an early adopter of digital, I never acquired the confidence with digital as I had with film. This is why I started with the Ultimate Beginner's Course. I still need practice but I'm feeling much more confident now. Thank you for creating a course that actually goes into the field rather than just parking yourself in a studio and giving lectures.
The Masterclass in Photography is worth..?
Whatever you charge. I'm not that great at converting currency, which fluctuates anyway, so what the course might cost me today could change in a few months.
Would you recommend The Masterclass in Photography?
Definitely. As I mentioned earlier, the student takes this course watching a professional photographer at work in the field facing sometimes adverse conditions as we all do. Mike's humour through it all is appreciated as well.
Tell us about your achievements & how you feel about them:
Shooting manual in digital had been frustrating for me. Back when I shot my film cameras (Canon F1 and AE1) years ago, there wasn't another option. I'm using an Olympus OMD EM-5 and an OMD EM-1 now and after this course, I'm feeling better about manual and comfortable with aperture priority.
Anything else you'd like to say?: To quote Arnold Schwarzenegger. "I'll be back." With a bit more practice I'll be ready for the 7 Building Blocks of Photography
Carla Conrad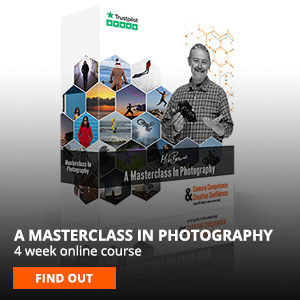 .