| | |
| --- | --- |
| After the beginners course I understand the controls on my camera | 24th Sep 2018 |
From our feedback form
Masterclass in Photography has...
Made a huge difference to my photos.
What are the differences before Masterclass in Photography & after?
I understand much more terminology and more importantly, the controls on my camera.
Is the course value for money?
It's what I need as my time is spent working long hours and I could never attend a course. It has been invaluable in making my camera much more familiar. I am still learning as well.
Would you recommend The Masterclass in Photography?
Spending hundreds of pounds on equipment and having no idea how to use it properly just doesn't make sense. Take this course and get the knowledge that you need.
Tell us about your achievements & how you feel about them:
I am slowly becoming competent.
Anything else you'd like to say?
I no longer feel inadequate when taking my camera out of its case.
Kevin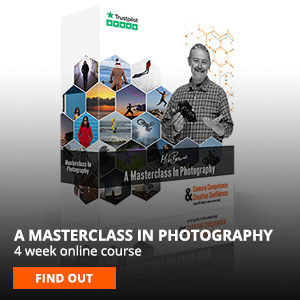 .