| | |
| --- | --- |
| After Beginners Course my photos improved immediately | 1st Mar 2019 |
From our feedback form
Masterclass in Photography has...
Made a huge difference to my photos.
What are the differences before Masterclass in Photography & after?
Mike Browne, you are an exceptional instructor. Your knowledge and ability to impart the basics of photography are truly incredible. As a teacher/instructor you are gifted. Your passion and sincerity for teaching photography is felt in every video.
I almost didn't take the Beginner course, but am so glad I did. My photos improved immediately, and more importantly I feel I know how to actually practice to become a better photographer. I appreciate how organized the course is, the printouts are great. Very useful reference. Thank you.
Is the course value for money?
A huge huge value. I couldn't have gotten more out of a course if I had gone to a University for a degree in Photography (Something I considered doing, but it would have been a 3 hour commute each day so I decided to not pursue). Talk about value, that was a huge saving.
Thanks Mike Browne, my husband also thanks you $$$$$$
Would you recommend The Masterclass in Photography?
I would absolutely recommend. It is not often that you not only get the best knowledge and them have it demonstrated, priceless. If I find myself having difficulty with a situation, I reference one of your videos.
Tell us about your achievements & how you feel about them:
I have not been in photography professionally very long, and use that word professionally with difficulty. It happen quite unexpectantly. As a real estate agent I took my own listing photos and my phone started ringing from other realtors to take photos of their listings. I enjoy doing real estate photography; however, my real passion is to take equine photos of hunter/jumpers as well as street photography.
Beverly W Del Giudice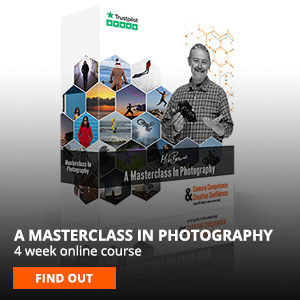 .