| | |
| --- | --- |
| After Beginners Course I'm more confident of what controls to use | 3rd Mar 2019 |
From our feedback form
Masterclass in Photography has...
Put me in control of my photography.
What are the differences before Masterclass in Photography & after?
Prior to taking Mike's Masterclass in Photography Course, I had a basic understanding of the controls of my camera, but not a good understanding of how, why and when to use them according to what I was photographing. Now that I have completed the course and continued to practice the exercises, I am more confident of what controls to use, when to use them and how to adjust them.
Is the course value for money?
Yes, this course provides great value for the money. Having an instructor like Mike take me through, step by step, brilliantly explaining all of the controls in a sequence that makes sense was worth well more than the price I paid.
Would you recommend The Masterclass in Photography?
I would highly recommend this course to anyone that is starting out and wants a logical sequence of how to move forward taking beautiful photos they can be proud of.
Tell us about your achievements & how you feel about them:
My greatest achievement by taking this course in having the confidence to know when and why I should take manual control of my camera without feeling like I might be doing something wrong.
Anything else you'd like to say?
I will be purchasing the 7 Building Blocks of Photography. I thoroughly enjoyed taking this course.
Stephen Woodburn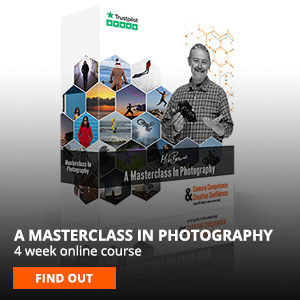 .