| | |
| --- | --- |
| The Masterclass in Photography is excellent value for money | 20th Oct 2018 |
From our feedback form
Masterclass in Photography has...
Put me in control of my photography.
What are the differences before Masterclass in Photography & after?
My photography skills and knowledge were quite limited, I was a happy snapper that annoyed my grandchildren by taking lots of photo's when they came to visit using my trusty little Fuji A700 compact. I decided to take it more seriously in February 2017 and with the help of a most excellent friend who loves photography, began to teach myself how to take photo's. I was able to get a basic understanding of the Shutter Triangle, but that's about as far as I got before I delved into the world of DSLR's and bought a decent second hand Nikon D90.
This is when things got a little confused and I started to get way ahead of myself. I have been watching lots of you tube tutorials, including Mike's excellent tips, but I had no structure to my photography. I was winging it just about all of the time and knew I was stuck in a bit of a rut so I took the plunge and signed up for the Masterclass in Photography Course.
I soon found where I had been going wrong and started to get rid of many bad habits I had unwittingly picked up on my journey thus far. I understand the shutter triangle much better and I am a lot more comfortable using my D90 in the various modes it has. I rarely use auto mode now and have a much better understanding of how to read the light conditions in order to take a photo I can be proud of far more often than I could previously.
Is the course value for money?
The Masterclass in Photography Course is excellent value for money for one simple reason. The simple way Mike explains the basic skills we all need for a solid foundation to our photography is the best I have found anywhere on the internet.
Would you recommend The Masterclass in Photography?
I definitely recommend this beginners photography course to anyone wanting to improve their skills, especially If you are stuck in a rut and are thinking of putting your camera in a cupboard and moving on.
Give Mike the opportunity to help you and sign up to the Masterclass in Photography Course. His simple and easy to understand structured way of explaining the technicalities will soon rekindle your zest for Photography with new found confidence. It's worth every penny.
Tell us about your achievements & how you feel about them:
I entered a photograph I had taken of one of my wife's wolf ornaments into the monthly competition and I received great feedback from Melissa. I took it before I signed up for the course so I am rather proud of that one.
My luckiest shot has to be the 747 in front of the Moon. I heard the plane, picked up my camera and started shooting. I had no idea what I was getting but was relieved to see my camera was on auto and this was the shot from that short but sweet gift from nature. It also proved popular on ClickASnap too.
After completing the course my first photo walk in the nearby countryside gave me the opportunity to put all the structured knowledge together and yielded a couple of delightful photographs that make the Masterclass in Photography Course worth every penny I invested.
Anything else you'd like to say?
Before signing up for the course I was going about my learning in a totally unstructured manner and I freely admit I was getting nowhere fast. The Masterclass in Photography Course has put that important structure into my basic skills and given me the confidence to progress and, more importantly, to enjoy my photography. After all, that's the whole point of any hobby or profession. Enjoyment is the difference between where I was and where I am now.
Thanks Mike.
Jim Graves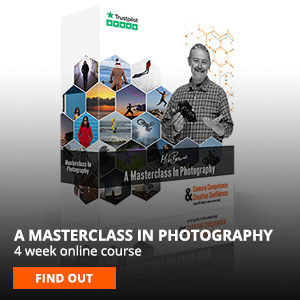 .