| | |
| --- | --- |
| Practise, practise and more practise, is the way to go | 7th Oct 2020 |
From our feedback form
Masterclass in Photography has...
Given me confidence.
What are the differences before Masterclass in Photography & after?
I am a lot more confident with the important controls on my camera, also by learnt much more about using my camera and where to find the controls.
Is the course value for money?
Yes it definitely was, cannot wait to be able to take a lot more photos in different areas around Australia when we can travel again.
Would you recommend The Masterclass in Photography?
Yes, I have been taking photos for quite a long time and its been very hit and miss in the quality of photos I have been able to take. Now I feel much more confident in the use of my camera, my photography won't be hit and miss anymore!
Tell us about your achievements & how you feel about them:
I'm now able to think of light etc and select the settings I need to get my exposure correct, or make necessary changes if needed. It will take much more practise and not being restricted to a 5 K radius of our home to get to the standard I hope for.
Mike always says practise, practise and more practise, is the way to go.
Anything else you'd like to say?
Mike's PLD competition has been helpful too, and I have also attended a couple of Mike's webinars which have been great so I will continue with this for now. thanks for the Masterclass in Photography, I will continue to go over it as I have downloaded it all.
Patricia Brooks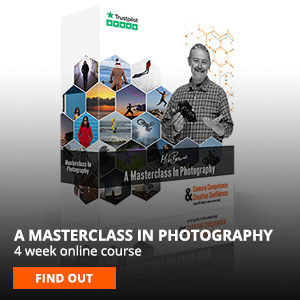 .