| | |
| --- | --- |
| Course helped me understand foundations of photography | 10th Apr 2019 |
From our feedback form
Masterclass in Photography has...
Put me in control of my photography.
What are the differences before Masterclass in Photography & after?
Prior to the Masterclass in Photography, I mainly used AV or TV and never ever looked at ISO and never thought about manual control and using the light-meter.
I may have completed the course in a funny order and am now doing more practice but the result is, I now understand and can create a manual exposure using the three controls and am able to under- or over-expose to cope with backlit subjects or place emphasis on different parts of the picture. Excellent.
I have also just started to use RAW but at this point, am not confident but it will happen as I take more images.
I'm also using lightroom for the 1st time so all in all, a massive step forward. Cheers
Is the course value for money?
Initially it seems expensive but after gaining some real insights into exposure, depth of field, composition, etc. etc. my images must and will be better. So yes, I think the course is good value for money.
Would you recommend The Masterclass in Photography?
If you genuinely want to understand the basics of photography and improve your knowledge and skills, this course has got to be a starting point, especially as Mike explains things in a non patronising manner and just seems normal!
Tell us about your achievements & how you feel about them:
None at present, but time will tell.
Anything else you'd like to say?
Overall, a course that has helped me understand the foundations of photography and made me want to go out and try different things.
Paul Gunn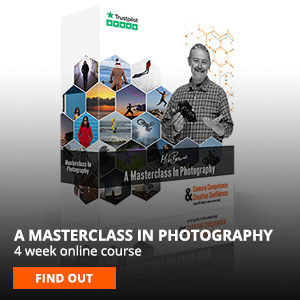 .