| | |
| --- | --- |
| After Masterclass in Photography I am now loving photography | 20th Jun 2019 |
From our feedback form
Masterclass in Photography has...
Madea huge difference to my photos.
What are the differences before Masterclass in Photography & after?
I have had a DSLR for about 8 years and for much of that time it has gathered dust in the cupboard. I have brought it out when going on holiday to take the obligatory holiday snaps but never got the best out of it. I have learnt more in the past 6 weeks than I have in the previous 8 years. I am now loving photography, wanting to learn more and more, and enjoying my new mirrorless camera as well!
Is the course value for money?
Totally. Not only are the materials worthy of the price, straight of the bat, I now have a library or resources I can keep going back to.
Would you recommend The Masterclass in Photography?
I have already told family and friends about the course and all I have learnt...sharing some of my early photos.
Tell us about your achievements & how you feel about them:
I actually shared one of my pics on the FB page. It was very out of my comfort zone to share, as I feel so novice, but it was a very simple shot I really liked. That was actually huge for me...just sharing something.
Anything else you'd like to say?
Just thank you. I look forward to seeing you again for the next course and am hoping to join you in Iceland next year.
Lisa Young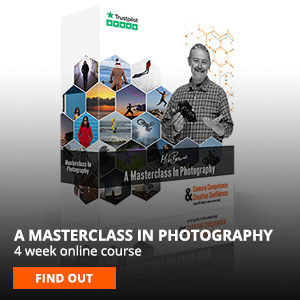 .