| | |
| --- | --- |
| This was a great course, fantastic content, simply and clearly delivered | 8th Oct 2019 |
From our feedback form
Masterclass in Photography has...
Put me in control of my photography.
What are the differences before Masterclass in Photography & after?
I have completed another in person beginners course prior to Masterclass in Photography, I have to say that Masterclass in Photography knocked the spots off my other experience. One example is that previously my approach was driven by individual exposure settings producing an often disappoint outcome ... now I start with the desired image driven by composition and light before I even get to the camera.
My understanding of the relationship between aperture, shutter speed and ISO has significantly advanced. Clearly practice and time will cement the thinking and techniques.
Is the course value for money?
Absolutely.
Would you recommend The Masterclass in Photography?
Absolutely ... in fact already have.
Anything else you'd like to say?
This was a great course, fantastic content, simply and clearly delivered. As a Brit that has lived in the USA for 20 years it also made me a bit home sick!!

I plan to revisit the course in a few weeks. I also intend to purchase "7 Building Blocks".
Thanks.
Ian Watkins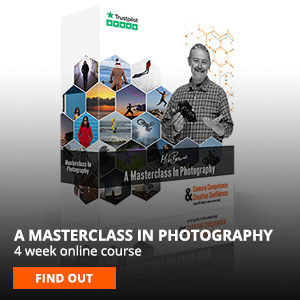 .