| | |
| --- | --- |
| 7 Building Blocks has given me a more systematic approach | 12th Jul 2017 |
From our feedback form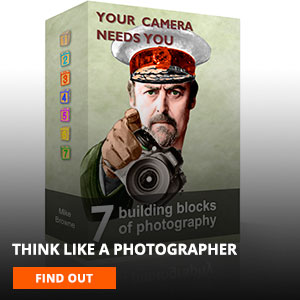 7 Building Blocks of Photography has ...: made me think things through
(Choose closest: massively improved my photography overall - improved my photography - made me more confident - Made me think things through - made no difference - Confused me)
What are the differences before 7 Blocks & after?: (please complete)
a much more systematic approach before taking a picture
- much less gear focused
- more aware about the different creative tools that my "brilliant brain" can use
The 7 blocks is worth...? (please complete)
to be worked through not just once
Would you recommend The 7 building Blocks of Photography?:
Yes, under the condition that you are ready to practice.
Practice makes perfect. This is an ongoing learning process. I have finished the 7BB course but the " thinking through process " is still not in my sub-consciousness.
I'm optimistic that I will reach this goal by steadily repeating and practicing.
Anything else?:
I would appreciate if you would dedicate some specific lessons to black and white photography. Maybe you did that already but I didn't find them.
Your concept of the 7BB and how you presented it in 8 blocks (sic!) is just brilliant. Chapeau!
Thank you very much, Mike, for being my online mentor. I hope that one day I will be able to meet you in real life and to attend one of your workshops.
Walter Grossenbacher