| | |
| --- | --- |
| Your style of teaching suits me down to the ground | 9th Nov 2020 |
From our feedback form
Masterclass in Photography has...
Put me on control of my photography.
What are the differences before Masterclass in Photography & after?
Mike, I have been listening and reading your videos and worksheets a lot since I began the course in June but please don't shout at me (I know you won't LOL) but I am finding it difficult to get the required amount of practice in at the moment. I work full time and live an hour away from my work so it doesn't leave me much free time.
That fact kept me from signing up for the course for quite some time but I really wanted something I could make a start on and I kept on looking at your Youtube videos and the courses and eventually I decided that I would just go for it and do what I could until I could devote more time to it and boy am I glad I did - I have loved every minute of it.
I am going at my own pace but I know you will forgive me for that. I learnt quite a lot of the basics at a local photography club but your course has underlined it all for me and at the moment the main difference is that I have consolidated my knowledge to a point where I have a better idea of how to control the settings etc and I can play around with those to achieve better pictures.
Is the course value for money?
Yes for me it was absolutely value for money. I now have worksheets and notes which I can watch and refer to over and over (slow learner) and because of my time constraints just now that suits me very well. Your style of teaching suits me down to the ground and I find my understanding of some of the tricky issues has improved a lot.
Would you recommend The Masterclass in Photography?
Yes I absolutely would recommend the Masterclass in Photography because of all of the above. Also, Mike teaches it well, you retain the videos and notes for future reference and while I know he recommends practice, practice, practice - and I agree with him there - but if like me you have a love for photography and you just want to get started, this is the course for you.
I am aiming to build up the amount of time I devote to more practice and as I do the exercises Mick suggests I know I will continue to improve - I have already.
Anything else you'd like to say?
I do have a question about the light meter, maybe this isn't the place to ask it! Basically, I tried what you suggested about making sure the light meter was at 0 or thereabouts - but frequently this results in a too bright or too dark image on my Nikon D5500 and I have to adjust the setting so that the light meter look like it's over or under exposed to get a proper picture. Any suggestions? Maybe I need to email this?
Sally Johnston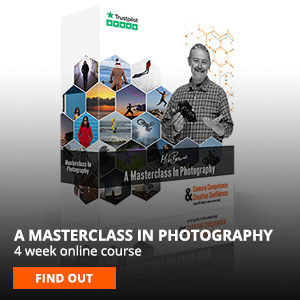 .