Zurich, Switzerland - 2 Day Photo Masterclass
Saturday 23rd - 24th April 2022
Price: £495
SOLD OUT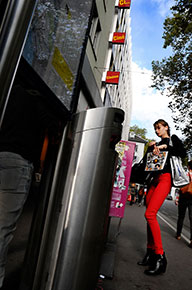 Join award winning photographer and mentor Mike Browne for this 2 day Masterclass. Day 1 is at a beautiful lake side in Pfäffikon (ZH) with mountains, boats and wooden docks.
Day 2 is an all day photo-walk and mentoring session in Zurich which coincides with the Sechseläuten Children's parade, making it a great opportunity for street / people photography.
Download an Itinerary
Who's it for?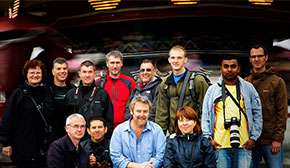 The Zurich, Switzerland Photo Masterclass is about creative thinking as a photographer and is for all levels of experience.
Beginners will need a basic knowledge of their camera and it's controls before the Masterclass because we won't be spending time explaining camera controls and menus. I have some free video tutorials for you to learn this before you come.
More advanced photographers will find the creative exercises challenging, group discussions enlightening and the locations interesting to shoot.
Where are we based?
Day 1: Pfäffikon (ZH) is just outside Zurich where we have a classroom next to the lake (Pfäffikersee), which we will be using for creative exercises, sunset and low light shooting in the evening. There are picturesque views with reed beds, old wooden docks and snow capped mountains in the distance. See gallery below. Pfäffikon (ZH) is 20 minutes by train from Zurich city centre.
Day 2: Zurich city centre. Zurich has a history dating back to Roman times and with it's old churches, squares and colourful Guild Houses.
Locations / shots include (but are not limited to...)
Lake Pfäffikersee: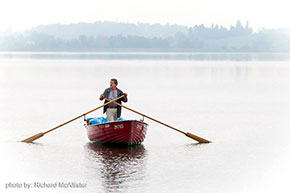 The weather can change fast and be misty in the morning with opportunities to photograph boatmen gliding over the water with hints of the far shore as a backdrop.
Image by Richard McAllister (2014 Masterclass)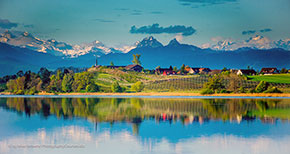 An hour later it could be clear and calm with reflections of snow capped mountains and blue skies beyond.
(This image was from an exercise about shooting panoramics with longer lenses)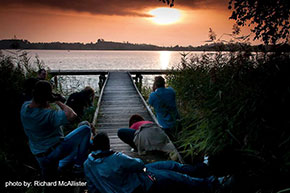 Old wooden docks make great foreground when we shoot sunset and low light on Saturday evening. See more in the gallery below...
Image by Richard McAllister (2014 Masterclass)
Zurich: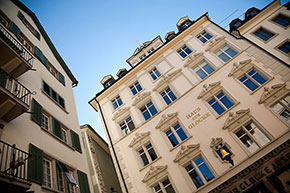 The architecture and backstreets are rich in photo opportunities and I'll be concentrating on helping you 'see' and execute images all around you, including 'up'!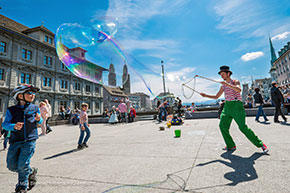 Street performers are often on the wide pedestrian Rathausbrücke bridge over the river Limmat prior to the afternoon parade.
(This image from an exercise to shoot fast moving street life and find best light to make the giant bubbles stand out)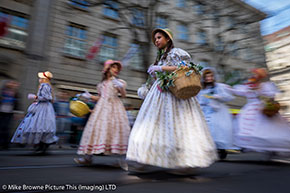 The afternoon Sechseläuten Children's parade is an opportunity for colour, characters and shooting pan-blur movement shots.
What will I learn?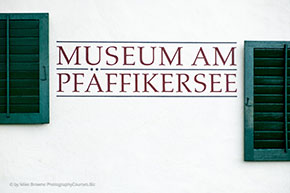 You'll learn what really makes a good or bad photo. Practical exercises will grow your creativity and help you find more photos, even when you think you're somewhere there aren't any!
After shooting sunset over the lake, you'll learn to find new opportunities by mixing different light sources. These observation skills are as essential as the techniques we'll be practising throughout the weekend.
You'll learn new ways to consider a location and grow your composition skills. Your confidence will grow as you discover you're better at photography than you initially thought and therefore be inspired to try new un-thought of ways to shoot.
Planning and learning the thought process of photography is vital for any genre of photography. I call it the 7 Building Blocks of Photography and they are common to all cameras and photographic situations. You may have heard of this course and we'll be using techniques and processes from it throughout the Masterclass.
Your Tutor:
Mike Browne (left) is a TV and Youtube Photography guru with @15 million views. Ranked by Petapixel in their top ten best photography educators, Mike's approach focuses on training the photographer to pre-visualise the image they want, then think through the steps needed to achieve it in camera.
Mike runs photo workshops and training around the world and his photography / consultancy clients range from private individuals to companies such as Jet Aviation in Switzerland who design and build luxury private jets.
He has awards Kodak, Fuji and Master Photographers Association; made promotional films for Pentax, Samsung, Olympus and Tamron and written for several of the UKs leading photography magazines.
Travel photography is his passion because it embraces all types of shooting from landscape to street life - food to flowers. Mikes is also addicted to motorcycles and moves fast to get a glimpse of a passing big twin :-)
Getting to Zurich
Zurich has a major international airport and excellent road and rail links from all over Europe. If travelling from outside the EU you may need a visa so please check.
Accommodation
Accommodation is not included because everyone will have their own needs so it's better for you to choose whatever works best for you. Some bring their family for a holiday whist they do photography with me, so they might want an apartment. Others prefer a nice hotel, others just want somewhere clean to wash and sleep.
Here's a list of Places to Stay in both Pfäffikon and Zurich. If you are leaving by public transport immediately after the workshop on Sunday evening, I recommend you stay in Zurich which is nearer the airport and has a main station. Pfäffikon is only 20 minutes by train from that station and is how I travel between the two locations. Details are in the Itinerary.
Download an Itinerary
If you'd like to speak to me, leave your details and I'll call you back.
£495
23-24th April 2022
SOLD OUT
Images from Zurich masterclasses
Some homework before you come
The Workshop Prep page has a few specially chosen videos for you to watch to ensure we go straight to work and everyone gets the most out of our location and the training. If we all have a basic understanding of camera controls it helps everyone get the most out of the photo training because we won't waste time on things that could have been looked into beforehand.
For example. If someone doesn't know what is meant by 'aperture' or 'ISO' and they don't know where to find it, I either have to spend time explaining and searching for it in their menus and settings whilst other participants stand around and wait, or I have to leave that person not knowing what we're talking about and consequently they miss out.
You don't need to be an expert - you just need a basic understanding of what I'm talking about.
ENJOY A RISK FREE 100% REFUND GUARANTEE
Valid for 60 days from date of purchase