| | |
| --- | --- |
| Masterclass in Photography helped me learn the basics | 17th Aug 2018 |
From our feedback form
Masterclass in Photography has...
Made a huge difference to my photos.
What are the differences before Masterclass in Photography & after?
Learning the Basics!!! Learning all the functions of the camera in Manual mode. I always had problems getting "sharp" pictures, probably being in my senior years & using too low a shutter speed didn't help.
The Masterclass in Photography is worth..?
In my opinion Masterclass in Photography is a great course. The way it's constructed is easy to understand in a non geek style, making it a fantastic way to learn.
Would you recommend The Masterclass in Photography?
I would thoroughly recommend this course.The presenter, with many years of experience, knows what he is talking about & explains & demonstrates each part meticulously. His easy going style & sense of humour make for good learning.
Tell us about your achievements & how you feel about them:
I am very happy with the improvement in my photography as I have a greater understanding after completing this course.
Anything else you'd like to say?:
I would like to wish Mike & the whole team all the best for the future. Keep up the Great work you are doing it is very much appreciated.
Paul Drew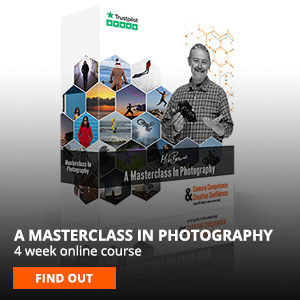 .