| | |
| --- | --- |
| Masterclass in Photography is bargain of the century | 15th Mar 2019 |
From our feedback form
Masterclass in Photography has...
Given me confidence.
What are the differences before Masterclass in Photography & after?
Before the course I would take lots of pictures and hope I would get a good photo, I would be twiddling dials like mad hoping it would give me the result I wanted. Now I am confident in setting my camera up to get me the look I want in my pictures, I enjoy taking photos so much more now. Thank you mike.
Is the course value for money?
I think this beginners photography course is bargain of the century with all the knowledge that you're given - in a way that is easy to understand and not overly technical. Plus the way it's delivered in bite size chunks stops you from being overwhelmed with information.
Would you recommend The Masterclass in Photography?
Yes I would and I have because for me it is a well thought out course and put together in a way that means everyone can benefit from it, whatever your level of experience.
Tell us about your achievements & how you feel about them:
I have got 10 of my photos in my local branch of Nero's coffee shop.
Anything else you'd like to say?
I'm so glad I started watching Mike's channel on you tube which is a great source of information and knowledge but if you want to get to the next level invest in a course not new gear.
Daryl Meredith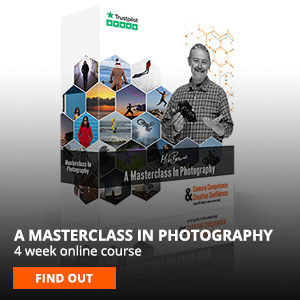 .