| | |
| --- | --- |
| Masterclass in Photography has given me so much confidence | 20th Feb 2018 |
From our feedback form
Masterclass in Photography has...
Put me in control of my photography.
What are the differences before Masterclass in Photography & after?
Never sure what settings to use; never knew how to use Manual Mode; exposure; composition; all the general building blocks of photography.
I had looked at YouTube and even purchased books, but still did not understand how to actually take a good photograph.
With Mike's beginners photography course I now feel confident of where to start and what settings will be best for whatever situation. It has given me so much confidence and I cannot wait to get out and use these skills Mike has taught me. He has made me excited to get out and experiment with my camera. Thank you.
The Masterclass in Photography is worth..?
Yes, if you are a beginner this is a very good starter. Mike gives you encouragement and makes you WANT to make and get better photographs. He also is a very good teacher and explains everything in simple terms that you can easily understand...
Would you recommend The Masterclass in Photography?
Certainly would recommend Mike Browne. For me he is very interesting, exceptionally informative and has a sense of humour too.
Tell us about your achievements & how you feel about them:
I have been interested in photography for years, but if I am honest I never quite knew what do to with settings etc. Mike made this course so easy to understand. I have l learnt more with this course over the past six weeks than I have ever done before. Thank you Mike for making it so enjoyable.
Anything else you'd like to say?
Just a big thank you to Mike for all he has done for my photography. I am only an enthusiast, not a professional or want to be, but Mike has given me a new lease of life for taking photos and that is a special gift. Once again thank you so much for your detailed video's and making it so enjoyable.
Susan Jones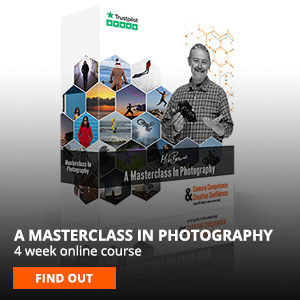 .