| | |
| --- | --- |
| Masterclass in Photography is well structured | 6th Jan 2018 |
From our feedback form
Masterclass in Photography has...
Put me in control of my photography.
What are the differences before Masterclass in Photography & after?
I feel more confident and in control. Before when I went out with the urge to shoot 'something' I was hoping more than planning. Now I know that hope is not a good planning tool and it is possible to set an objective and be more likely to achieve it, or something close to it.
In addition I am 'seeing' things differently and moving away from the obvious shot, perhaps I have discovered a creative side of myself.
The Masterclass in Photography is worth..?
Every cent! Seriously though, it is the best value for money around and it is worth much more than the sum of its parts.
Would you recommend The Masterclass in Photography?
Absolutely. Once you realise you are not satisfied with your shots or you suspect there is more to them this is the place to come. The course is well structured, Mike's delivery is warm and engaging and you feel like you want to make him proud of your work!
Anything else you'd like to say?
Thanks for putting together the course and for wanting to share your passion. I certainly will be looking at more of your courses.
Stuart Fillmore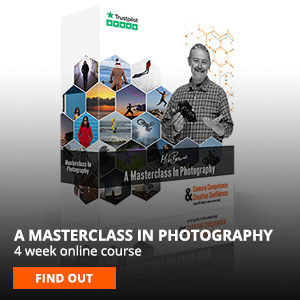 .