| | |
| --- | --- |
| Masterclass in Photography is a great tool and has reignited an old flame | 24th Jul 2017 |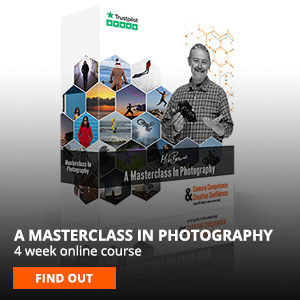 From our feedback form
Masterclass in Photography has...
Put me in control of my photography
What are the differences before Masterclass in Photography & after?
Before this beginners photography course, I would get somewhere middle of the day and simply bring the camera up and take 1 or 2 shots and move on.
After the course, I'd think about where to go and what time of day to shoot to try and get good light; look around and try to get better composition by moving around and seeing if I can get off the beaten path.
One can only choose one option from the above drop down list, but I would have also chosen "given me confidence" as well. Normally it would have been very easy for me to just stay home but now I would "want" to get out of the house and go somewhere, anywhere and take pictures!
The Masterclass in Photography is worth...?
If you want to take your photography several levels above, it's priceless!
Would you recommend The Masterclass in Photography?
I would highly recommend this course to anyone who is starting out with photography and wants to take it seriously and continue on with it and improve their skills etc.
And also for someone like myself, which used to be into photography back when film was still relevant.
This course has been very helpful for me as it has awaken all the knowledge (and a lot of new things due to the course) I've had in my head since I last used a film camera.
Anything else you'd like to say?
Mike, this may sound kind of cheesy but as I have mentioned before I've been away from photography for many years (before digital) and since I've started watching your youtube channel for a couple of years now (subscribed of course) you have inspire me to get back into the game.
I love, your love for photography and how in your videos you explain things and show us examples of how to do things, move around and try to see light creatively.
There's so much to be said....If I could, I would like to shake your hand (and maybe a hug).
Thank you Mike, for these great tools and reigniting the old flame.
Regards
Ivan