| | |
| --- | --- |
| Photography course has lead to positive feedback | 23rd Jul 2018 |
From our feedback form
Masterclass in Photography has...
Made a huge difference to my photos.
What are the differences before Masterclass in Photography & after?
Before I took Mike's course I had been taking photos for a while, and thought I was doing okay but could do with some tutoring. After completing the Masterclass in Photography course I realised I knew very little about my camera, and the fundamental's of photography - composition, light, exposure etc.
Having completed the course I am now taking correctly exposed photographs, and understand why. The understanding and control I now have over my camera, and the confidence that delivers, has been brilliant for me, and it's really moved my images along to a much better standard. The lessons around camera shake, and how focal length and shutter speed relate to this, were invaluable to me and have eliminated soft shots I kept taking.
The Masterclass in Photography is worth..?
The Masterclass in Photography course is worth every penny I paid for it, and realistically more. The reason I say more is because of the style of tutoring and level of intuition Mike delivers, you really feel that Mike is teaching you on a one-to-one basis.
Would you recommend The Masterclass in Photography?
Yes, without doubt, and I already have to a couple of enthusiastic budding photographer friends who have noticed the significant improvement in my images.
Tell us about your achievements & how you feel about them:
The main achievement I have is the positive feedback I receive from family and friends about my images, and not just the 'that's a great photo' throw away comments you always tend to receive from friends on Facebook. I am now receiving some very positive and sincere feedback about my photography, which makes me feel really good about it, which increases my confidence, and provides encouragement to keep applying what I have learned.
Anything else you'd like to say?
I just want to say thank-you to Mike, and his production team who pull these courses together, as the manner in which they are delivered is a large element of why I was able to learn and progress.
I was a little hesitant about committing to purchasing an online course of this nature at first, but from the off it was clear I had made the right decision, and where my photography is now, compared to when I started this beginners photography course, bears testament to that.
Darren Pooley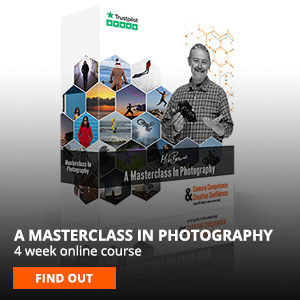 .