| | |
| --- | --- |
| Photography Course covers an extremely wide range in 6 weeks | 11th Oct 2018 |
From our feedback form
Masterclass in Photography has...
Made a huge difference to my photos.
What are the differences before Masterclass in Photography & after?
Before I started the Masterclass in Photography Course I had a very muddled idea of camera settings and the exposure triangle seemed fathomless. I've watched so many different YouTube photography videos picking up bits and pieces - but not really able to bring them together.
This course has really helped me join the dots so to speak, I can honestly say I do understand what the camera functions are and over the 6 weeks course, when and how and why to apply them.
Is the course value for money?
I found Mike's Masterclass in Photography Course to be excellent value for money. He covers an extremely wide range in 6 weeks. Each lesson is packed full of information and videos and exercises to help you improve your photography.
Would you recommend The Masterclass in Photography?
I would say to anyone interested in learning how to move away from the AUTO setting on your camera and take control of your photographs to start with Mike's beginners photography course. His style of teaching is brilliant, he breaks everything down so simply and makes it easy to understand. Also it's great fun!
Anything else you'd like to say?
Thank you Mike, I've really enjoyed this course it has been such fun and I've learnt so much! It really has brought new life to my photography!
Bye for now and I will see you on the next course. I have every intention of working my way through them all.
April Mumby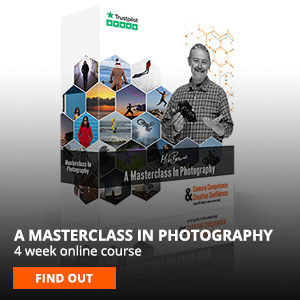 .