| | |
| --- | --- |
| Mike has a good style of teaching a complex subject on photography course | 22nd Nov 2018 |
From our feedback form
Masterclass in Photography has...
Made a huge difference to my photos.
What are the differences before Masterclass in Photography & after?
I had a Nikon DSLR which I used as a point and click for a few years. Now I feel in control of my camera, I think about composition, light, angles, zoom and generally think more about my photos than I ever did before.
Is the course value for money?
Yes I think so. I used to just point and click now I actually think about my photo... what do I find interesting about it? What's the subject? What do I want to convey in the photo? How will I compose it? All this I have learned from the course.
Would you recommend The Masterclass in Photography?
Mike has a good style of teaching a complex subject. He encourages you to think for yourself, gives you the techniques and tools to do that and most importantly a new way of approaching your photos... for the better.
Tell us about your achievements & how you feel about them:
I recently went on trip of a lifetime to South Africa and with my new found knowledge I took some amazing photos. I don't subscribe to social media but my friends and family were astounded by my photos and I am submitting a few to wildlife photographer of the year 2019!!
Anything else you'd like to say?
Thanks Mike, I now approach every day looking at the world with a photographers eye. My enthusiasm has infected my wife, she is now a keen photographer too and keen to learn new skills to take her camera out of auto mode.
Joe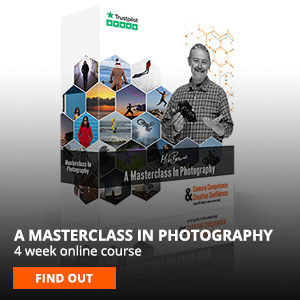 .