| | |
| --- | --- |
| I'm done buying and into using for now | 16th Jun 2020 |
From our feedback form
Masterclass in Photography has...
Made a huge difference to my photos.
What are the differences before Masterclass in Photography & after?
I have learned a tremendous amount about cameras and find myself looking and noticing different things like light coming through the trees at different times when I am walking my dogs... and trying taking photos at different angle into the sun, away from the sun.
Learning about features on the camera that in 8 years with digital cameras I never used like getting off of automatic white balance. Oh yes and using the histogram ALWAYS.
I also learned how to use my older cameras - I have a Canon pocket camera that has reasonable lens and allows me to shoot in modes including manual, I slip it in my pocket all the time in case I come upon something interesting.
Is the course value for money?
I took the course because in one of your YouTubes on shooting during the pandemic and you were talking about "kit" and suggested that maybe if I were looking to take better photos that newer equipment wasn't the problem maybe taking a class would be a better investment before buying new equipment, then after I had more experience I would know what I wanted to buy and why I wanted to buy it. You are not a good spokes person for impulse buying! Actually, I find that the kit I have is now six years old, but it very capable of outstanding pictures. I'm done buying and into using for now.
Would you recommend The Masterclass in Photography?
This should be the first thing some does after buying an SLR. Mike shows how to use the kit lens and the camera to get outstanding results and to open up the creativity capable with a basic camera. Through the class you learn how to unlock the capabilities of the camera to produce the images the owner wants and purchased the fancy camera to obtain. I have been taking pictures since I lived in Japan in 1976. But its been good pictures by chance. I now feel more confident with my camera.
Also, I like Mike's way of explaining and encouraging. I talk to my wife about Mike like we are buds at the pub. I would very much love to go on one of his shooting trips, I think he would be great fun to travel with. Anyone that likes photography and motorcycles is a friend of mine. And I do really love his very exploitative way to explaining things, like the "shiny" things. I immediately understand what he is explaining.
Tell us about your achievements & how you feel about them
Just beginning I have more pictures now to process than I have time to work on them, and I am collecting more as I come upon places and images.
I can't say enough about how happy I am.
Anything else you'd like to say?
Going to get busy for the summer then the mastery class in the fall.
Michael Webb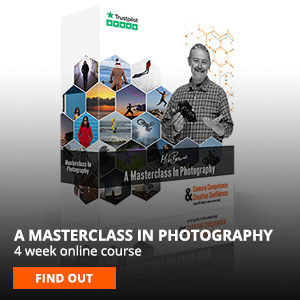 .