| | |
| --- | --- |
| I'd Recommend Masterclass in Photography to Anyone Getting a New Camera | 5th Mar 2018 |
From our feedback form
Masterclass in Photography has...
Made a huge difference to my photos.
What are the differences before Masterclass in Photography & after?
All I can say is thanks Mike! I was into photography as a young adult, but along came the husband, dog and then the child... Now as we are empty nesters I wanted to get back into it, so I went out and got myself a Nikon D7500, sat down and read the manual. They don't make cameras like they use to!
I found you on YouTube and it started to make sense. I took this beginners photography course and on Tuesday I am of to Costa Rica with my new camera and a bag full of confidence. My point and shoot will be staying home this year!
The Masterclass in Photography is worth..?
It was worth every cent or pound, oh right we don't have pennies any more - worth every nickel.
Would you recommend The Masterclass in Photography?
I would recommend this course to any one wanting to get into photography, or getting a new digital camera.
Tell us about your achievements & how you feel about them:
I have gone from looking at my digital camera with confusion to having loads of confidence, and now my camera and I will be going on many new adventures. I can not say thanks enough.
Anything else you'd like to say?
I will be getting your 7 blocks to take with me to Costa Rica and I can hardly wait for both.
Darby L'Ami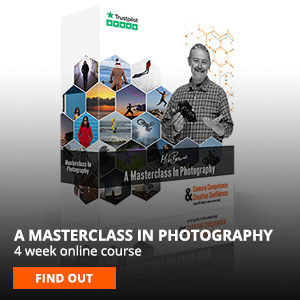 .